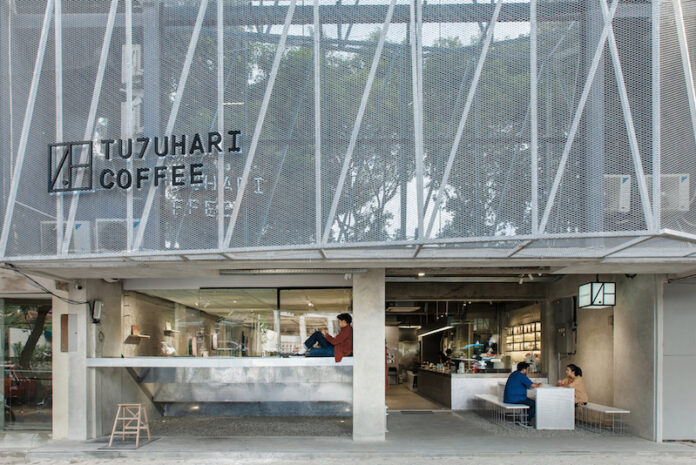 Overview
The Tujuhari Cafe is not a normal cafe. It is the collaborative center of many overlapping communities – cultural ones, location-bound ones, professional ones, artistic ones, and so on. It's fascinating to see a thoroughly re-thought cafe that leans into a cafe's de facto secondary function as a space to work and collaborate with community. This one is designed specifically with both versatility and community in mind, with the ability to host many different events through the inclusion of a stage, a common area, movable tables and chairs, a bookstore, and, of course, a coffeeshop.
Key Takeaways
This is a cafe space designed specifically with versatility and community in mind. It exists strongly within a neighborhood community but also extends outward, inviting others to participate.
To facilitate connection and a collaborative culture, the space is deliberately functional and open, including working space, stage space, a cafe and a bookshop.
This is a fascinating re-think of a coffee shop/cafe, since it extends toward the de facto secondary function of a coffee shop: a space to work, collaborate, and build or nurture community.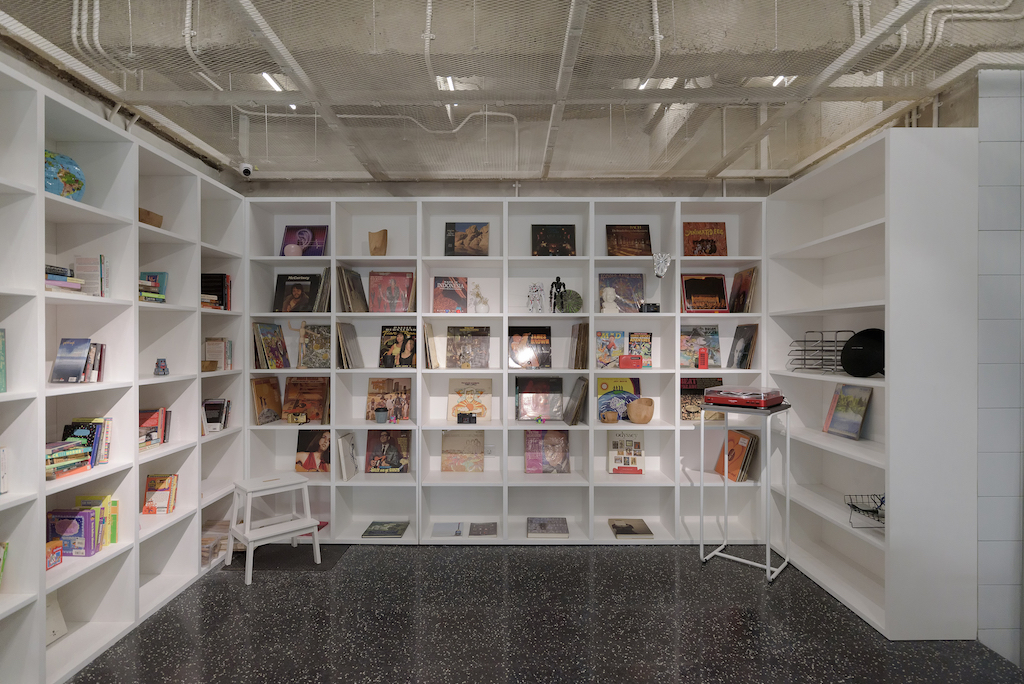 Excerpts
Jakarta-based Studio Kota Architecture, led by architect Erick Kristanto and assisted by architects Wendy Sudibyo, Farrel Prahaditya, has designed Tujuhari Coffee, a 150m² cafe and multi-purpose located in the southern part of the city.
The brand promotes a productive and collaborative culture in its coffee shop by offering an open platform for any programmes related to work, art and culture in a social setting.
People with different backgrounds, interests, and activities coexist in the same environment which drives social interaction.
Various happenings from movie screening night, book launching, music party, startup pitch meeting, art exhibition, and charity event can take place in the productivity chamber.
All furniture in the productivity chamber is lightweight, movable and stackable. With the mobility of the furniture, it is possible to see different seating arrangement every single day following the event happening that day.
To provide a soft space divider for particular events, curtains have been installed to help compartmentalise the chamber to ease space management.
Another design strategy for the facade is to expose the interior features to be habitable parts of the exterior. The top part of the mini amphitheatre extends out of the facade and becomes outdoor seating for the customer; pushed back shopfront gives space for outdoor co-working area and the clerestory window gives a glimpse into what is happening in the productivity chamber.