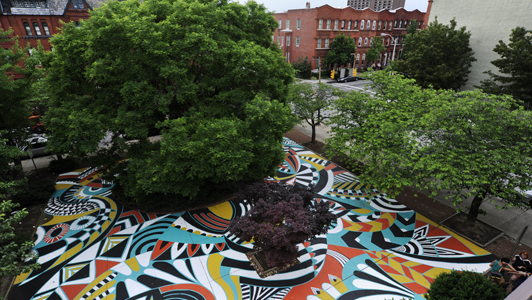 Overview
This article gets at the social interaction at the core of my senior thesis project. How can two or more disparate communities be persuaded to come together in a symbiotic way? What value do different communities bring to each other and their place, and what ideas might they transact? Community and cultural specificity is a good starting point. With this initiative – the Station North Arts District – we see a community-led initiative for a community-specific problem, led by local stakeholders and third parties, like artists.
Key Takeaways
The very premise of this – a community-led initiative for a community-specific problem – is at the core of my senior thesis.
The confluence of the artistic ideas employed here, which hailed from both within the community in question, is similar to the transaction of ideas in a culturally mixed workspace.
There is also a sense of adaptive reuse here – in revitalizing a blighted and forgotten part of a city in a way that comes out to be a net positive for every stakeholder, from residents to artists to passersby.
Excerpts
How can a distressed urban area capitalize on its creative artists, organization, and institutions to create a vibrant destination for residents and visitors alike?
A coalition of four local non-profit arts organizations joined together to bolster artistic programming in an area of Baltimore long considered blighted.
The group set out to improve the quality of life by implementing public art installations and programs in different indoor and outdoor sites and to help the community capitalize on the creative artists, organizations, and institutions that call the Station North area home.
It has long been subjected to high vacancy rates, with abandoned buildings and empty lots dotting the district.
After the construction of the Jones Fall Expressway, the area became even more isolated from the rest of the city.
It is an area made up of several parallel but often disparate communities: artists, legacy residents, Koreans, commuters who live in Station North and travel to DC every day, people who travel into the area for the many social services within a few blocks of the train station, and students associated with Maryland Institute College of Art (MICA) or the University of Baltimore.
This diversity has led to varying, and at times competing, visions for how the neighborhood should develop.
The non-profit coalition knew that the community faced significant social and economic challenges, and that its residents were in need of educational opportunities and technical support services.
As a way to activate empty spaces and lots, and in an effort to get more eyes on the street, the coalition began thinking of way to create a mix of additional tenants, ongoing public programs, and short-term events.
One goal was to capture a large, long-overlooked audience: commuters using the nearby transit hubs who have time to spend in the district, but who may otherwise not chose to leave the station.
Data are abstract; they have no physical presence and no inherent structure, but our brains evolved to understand the real world, not abstract concepts. By making data tangible, it changes the way we understand and interact with it, augmenting our minds' ability to grasp digital and mathematical abstractions.