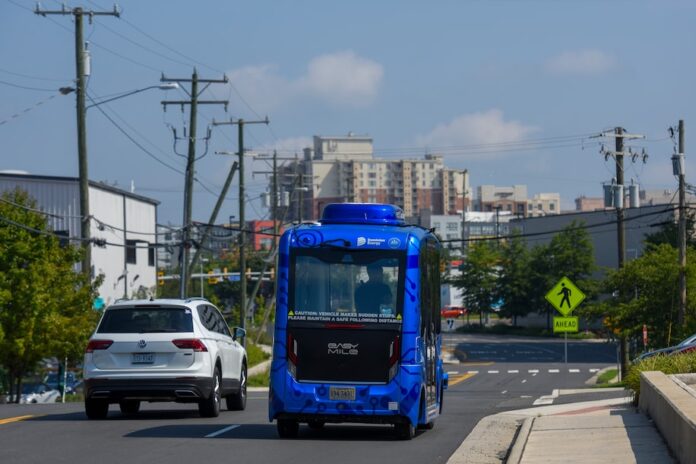 By Luz Lazo
Fairfax County and Dominion Energy are testing an autonomous electric shuttle that could be carrying passengers between the Dunn Loring-Merrifield Metro station and the county's eclectic Mosaic District as early as this fall.
Called Relay, the 13-foot-long blue bus will trek a mile-long route without a driver aboard. The vehicle, which has no steering wheel or pedals, is equipped with sensors programmed to keep it on a predefined route and to spot and avoid any obstacles in its way, officials said.
The bus travels no faster than 15 mph, adjusting its speed as it encounters traffic and making precise stops.
On the streets of Fairfax, the shuttle is now essentially learning its fixed route, undergoing testing and awaiting approval from the National Highway Traffic Safety Administration to begin passenger operations. That is expected to occur before the end of the year.
During the year-long pilot, officials and scholars from various Virginia universities will closely monitor and study the operation, looking at ridership, rider demographics and any problems or concerns. Project officials already anticipate effects from the coronavirus pandemic, as people are generally traveling less and are less likely to be using public transit.
The shuttle, a third generation of the EZ10 shuttle made by French manufacturer EasyMile, is designed for public transportation and is already carrying passengers in cities and on college campuses across the world, according to Kristin Buchholz, a U.S.-based project manager at EasyMile.
EZ10 shuttles are operating in 16 cities across the United States, including Salt Lake City; Columbus, Ohio; and Corpus Christi, Tex. They're programmed on routes that connect people from transit hubs to commercial districts, between airport terminals and within university campuses.
The bidirectional shuttle is mapped on a route and uses several sensors and technology such as GPS and light detection and ranging, or lidar.
If it detects an obstacle, even at a distance, she said, it will begin slowing down. If the obstacle doesn't clear as the shuttle gets closer, the vehicle makes a smooth stop. If something jumps in front of it, the shuttle makes an emergency stop.
The shuttle is accessible, in compliance with the Americans With Disabilities Act, and has audible and visual alerts and Braille instructions. A "safety steward" will always be on board, in accordance with NHTSA regulations.
An app will allow users to track Relay and know when it will arrive next. It will serve stops every 15 to 20 minutes, officials said, and rides will be free.
Mark Webb, chief innovation officer at Dominion, said the company sees potential to reduce carbon emissions with electric, autonomous transportation, and it wants to be part of that future. County and company officials also cite it as a solution to reducing road crashes often caused by distracted drivers. Human error — including distracted and drunken driving — causes 94 percent of car crashes nationwide, according to NHTSA data.
Lazo, Luz. "'This Is Our Future': Fairfax Tests Region's First Self-Driving Shuttle for Public Transit." The Washington Post, WP Company, 16 Aug. 2020. www.washingtonpost.com/local/trafficandcommuting/this-is-our-future-fairfax-tests-regions-first-self-driving-shuttle-for-public-transit/2020/08/16/c3e7a1ac-dca1-11ea-8051-d5f887d73381_story.html

Analysis–
This article talks about a new self-driving shuttle and how it and other self-driving vehicles will be operating in the U.S. to serve as another option for public transportation. I found this article pretty interesting since this is one of the first implementations of fully automated modes of transportation in the U.S. Other countries have done this already, but usually in the form of rail transit, not bus transit. It is more difficult to ensure that a bus or shuttle can operate safely without a driver. But if that can happen this would be an amazing advance in technology.
This article is relevant to my research because it touches on a piece of technology that could be beneficial for transportation workers. However, one thing that concerns me is the potential for a decrease in jobs when autonomous vehicles become the norm. But this shuttle has a "safety steward" on board just in case. Hopefully that can resolve the loss of jobs.