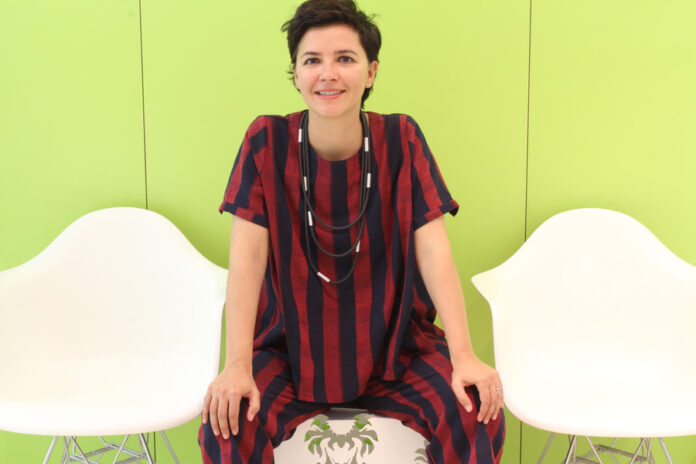 In the spring of 2016, a striking art installation was constructed outside MIT's building E15. The work consisted of 20,000 small green plexiglass squares, with intricate holes cut in each one, depicting vanished or endangered pieces of global cultural heritage, including buildings, monuments, and sculptures. Attached to fencing about 40 feet high, the squares collectively formed an image of the Arch of Triumph from Palmyra, Syria, an ancient treasure destroyed by fundamentalists in 2015.
Lit up at night or shimmering in daytime, this installation — the "Memory Matrix" — was a powerful reminder of the fragility of our cultural creations in the face of conflict and strife. But it also represented human resilience and the strength of collaboration: About 700 people helped construct it, including MIT community members from 11 different departments and programs, and participants from Egypt and Jordan.
"That project was amazing, because of the solidarity-building it created across campus and internationally," says MIT Associate Professor Azra Akšamija, who created the idea for the installation.
Akšamija is an uncommonly versatile artist, architect, and scholar whose work explores cultural identity and conflict.
She has also been a program-builder at MIT, founding the Future Heritage Lab (FHL), which focuses on cultural preservation. At the Al Azraq Refugee Camp in Jordan, FHL members, along with their partners at German-Jordanian University, have helped Syrian refugees document their lives through photography, design, and poetry; the work was displayed at the 2017 Amman Design Week.
The Al Azraq camp refugees, Akšamija says, "design artifacts that are partly utilitarian, but are about preserving human dignity and memory, and keeping the feeling of who you are. It's powerful."
Akšamija attended graduate school at Princeton University, receiving her MArch in 2004, while becoming active artistically; by 2004, her work had been displayed in high-profile institutions and exhibitions in Vienna, Valencia, Leipzig, and Liverpool. Joining MIT's PhD program in the history and theory of architecture, Akšamija continued to create art; in addition to "Frontier Vest," she produced noted works such as "Survival Mosque" (2005), a wearable and portable mosque equipped with a copy of the U.S. Constitution, earplugs (to block out the insults Muslims might hear), books, and more. Soon her work was exhibited in major art museums in London, New York, and Berlin.
Some of Akšamija's projects from this period went in novel directions. With nine other artists and architects, Akšamija co-curated the "Lost Highway Expedition" in 2006, a trek in which 300 people walked the Highway of Brotherhood and Unity that connects the capitals of the former Yugoslavia.
Akšamija calls the current direction of her research "Performative Preservation." This is an approach to cultural preservation that uses "methods of contemporary arts and participatory art." She emphasizes that participation and co-creation are crucial to cultural restoration; physical structures can be rebuilt, but they will lack meaning without community involvement.
Her work is now on view at the Gallery for Contemporary Art, in Leipzig, Germany, and at the Aga Khan Museum in Toronto, with a new work slated for the 17th International Architecture Exhibition for the Venice Biennale, in May 2021. Curated by Hashim Sarkis, dean of MIT's School of Architecture and Planning, the Biennale's theme is "How Will We Live Together?" Akšamija's project, "Silk Road Works," a symbolic construction site for a pluralist society, will be part of a section at the Arsenale titled, "Among Diverse Beings."
As always, Akšamija hopes for a thoughtful response from her audience, without knowing exactly what that will be.
"When you work in public space, it's not about finding a consensus, where we all have the same opinion and are happily living together," Akšamija says. "It's about accepting and coming to terms with conflicting attitudes and ideas, and making space for them."
Analysis
The culture is both powerful and also fragile. It's strong because it's about humanity's common memory, dignity. It could be revoked wherever there is a community. However, it could also disappear without any sound.