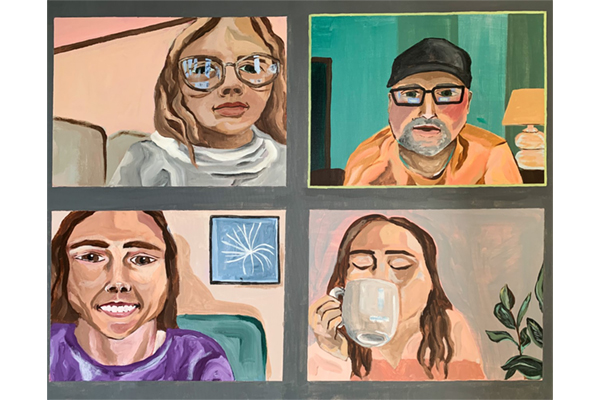 When the COVID-19 pandemic struck, University of North Georgia (UNG) sophomore Donal Jolley felt worry and dread. Then the nontraditional student pursuing a degree in art education put his emotions on canvas.
"The job of an artist is to document what is going on without words," said Jolley, 57, of Gainesville, Georgia. "A good artist will embed a whole lot of messages in one piece. Fifty years from now, a person can see how we were feeling and thinking without having to look at or translate an essay. It tells a story that crosses culture and language."
His acrylic piece titled "Covid" is one of 19 pieces in UNG's inaugural online exhibition "Student Voices from the Quarantine." The display features works created by UNG students during isolation that represent their reactions to the health crisis.
"This exhibition is devoted to artists who, as we all have, suddenly found themselves cut off from their work spaces only to discover different ways to approach crafting a work of art," said Dr. Pam Sachant, head of the Visual Arts Department at UNG.
It is also UNG's first foray into exhibiting students' work virtually. It is the first of three planned online exhibitions to connect the public with art.
"With the UNG art galleries currently closed due to COVID-19, the Office of Web Communications helped develop a different way to celebrate the work of our talented students and share it with the community," Cooke said.
Cassady Fulbright, a senior pursuing a degree in studio art, was pleased UNG adapted to the situation and allowed her work and others' to be shown this summer. Traditionally students have the opportunity to showcase their work in art galleries on the Dahlonega, Gainesville and Oconee campuses.
"UNG wants to ensure that they promote their students," Fulbright said. "As an artist, you want people to see your work. I think the virtual exhibit can be a whole new venue and more people can view it."
The 22-year-old from Toccoa, Georgia, also applauded the university's ability to transition to online instruction in March. Her painting was inspired from her online learning experience.
"I was able to glimpse into my peers' worlds. It was a portal into a different place with our own personal styles," she said.
Analysis:
While this article doesn't relate to virtual learning, it does put a brighter spin on the socially distanced world we have been forced to adapt to. The idea of socialization looks completely different today than it did merely a few months ago. We don't see each other's entire bodies anymore, but rather just our heads and whatever else in our environment fits into a computer screen. Artist Donal Jolley offers a glimpse into his "slice of life," specifically what it looks like to share time with one another virtually. A beautiful aspect of art is being able to connect with each other by creatively presenting our personal realities. It helps us both relate to one another's experiences as well as observe what makes us different. Humanity, and more specifically students in online school, needs this kind togetherness now more than ever.
Source: https://ung.edu/news/articles/2020/06/first-virtual-exhibition-displays-artwork-inspired-by-covid-19.php