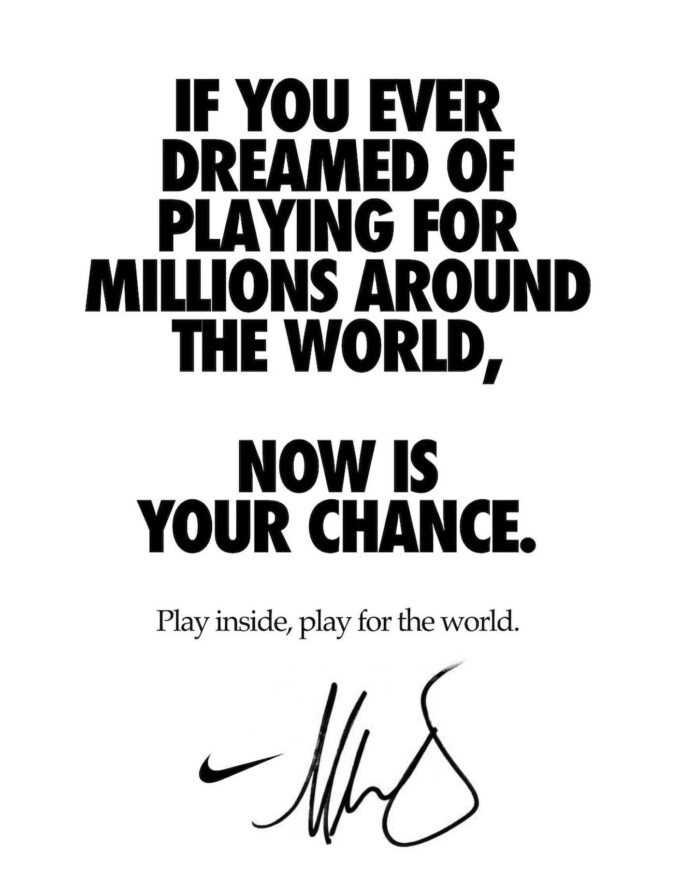 By Federico Rossi 2020
Through social media, Nike has published a message that reads "If you've ever dreamed of playing for people all over the world, now is your chance. Play inside, play for the world", followed – as a kind of signature – by the iconic Swoosh. The slogan, designed together with the Wieden + Kennedy Portland studio and reposted by an infinite series of athletes and Nike sponsored companies, follows the announcement that the brand and its foundation would have allocated over 15 million dollars to support efforts to fight the COVID-19. 
The post also coincides with the announcement to make free premium access to the Nike Training Club app, a subscription service that includes streaming workouts, progressive training programs with or without the use of external weights, and advice from coaches of Nike Master.
Nike's funding to combat COVID-19, which follows an additional $1.4 million commitment to health workers and care facilities in China, will be distributed across several organizations – most of which have Oregon based – but will also go to support the United Nations and the Swiss Philanthropy Foundation to support the World Health Organization and its partners.
Within an hour, several of the big-name athletes the company sponsors had posted the ad on their respective social media channels, including: 
–
Social media like Instagram and Twitter is an amazing way of reading new audiences. By using the social media campaign, Nike was able to boost awareness for both the brand and the severity of COVID-19. This shows the benefit of how campaign visuals with a simple text can become viral and be known to people. Essentially, it's just a text with the message of stay at home. But it was delivered well with the help of social media marketing.