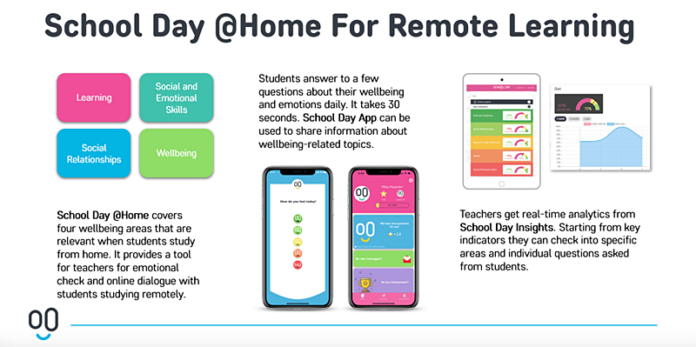 School Day @ Home was an initiative from the company School Day to create a version of their software meant for learning from home. I chose this innovation because of its attention to mental health, which is a large side-effect of all of the chaos caused by COVID-19, and something that is impacting the learning of young students who have been placed in a completely new learning situation for reasons they might not even understand. These emotional check-ins are especially important when the students can't be in person with the teacher because it is harder to interpret a student's emotions over the computer. This software allows teachers to more carefully cater towards students if they are having an off-day at home, and helps teach students the importance of reflecting on their own emotions. How might this technology expand to include the parents as well, who are often standing in as teachers for their children?
—
"School Day @ Home: Supporting Teacher and Student Wellbeing at Home." hundrED, https://hundred.org/en/innovations/school-day-home.
"School Day @Home covers four wellbeing areas that are relevant when students study from home. It provides a tool for teachers for emotional check and online dialogue. Students answer a few research-based questions about their wellbeing and emotions daily. It takes 30 seconds. School Day App can be used to share information about wellbeing-related topics.
"As the world is impacted by COVID-19, we want to support schools and families around the world.
"Inspired by the ways educators foster community beyond the classroom, we have curated a set of research-based School Day @Home questions and built a model to support the wellbeing of students in a remote learning situation.
"Support your students' wellbeing, guide their social and emotional development, and stay connected with them even in remote learning. 
For more information about School Day: https://schoolday.com/en/solutions