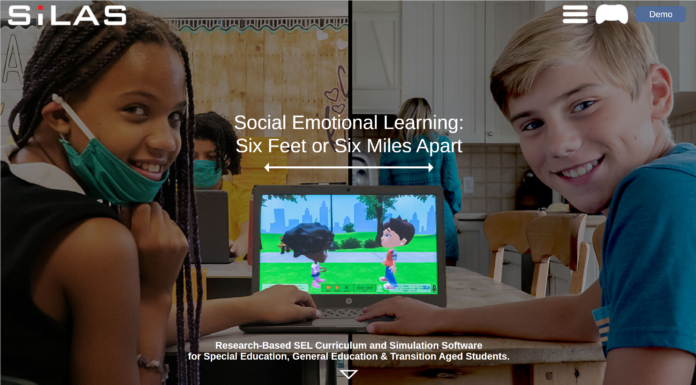 As a young child, learning and developing social skills is extremely important, and it is something many children are lacking during COVID-19 not being able to go to school and interact face-to-face with their peers. SiLAS gives children the opportunity to interact with others and develop their social skills in a fun, engaging way without having to leave their home. Because of the limited interaction and socialization typically inherent in online schooling, it is more important than to emphasize social and emotional learning when possible. How might the SiLAS platform be expanded to integrate with lessons from other subjects in the virtual classroom?
—
Dudick, Chris. "4 Ways SiLAS Improves Social and Emotional Learning Carryover." SiLAS, 28 Oct 2018, http://www.silassolutions.com/blog/4-ways-silas-improve-social-and-emotional-learning-carryover/.
"We created SiLAS with one goal in mind: we wanted to create a program that would allow users to transfer social skills learned in SiLAS into real life. As teachers, we have witnessed the difficulties students have incorporating Social/Emotional skills, which are learned from structured lessons, into their own personal repertoire. In each scenario, we were disappointed by the lack of interest and carryover that students had exhibited in the programs. To get the carryover we wanted from our students, we knew we would have to try something different. Here are the four ways SiLAS was built from the ground up to improve SEL carryover:"
Motivation
"Making SiLAS an avatar-based video game that uses Xbox controllers is an important part of our program. When students see the characters and the controllers, they are much more motivated to give our program a try. Using avatars has also been show to make students more likely to try a program like SiLAS. The fun and excitement SiLAS brings to the classroom encourages students to practice, revise, and following with their social animations which all effect carryover."
Multiplayer
"As we mentioned, other social skills programs are anything but social. They often have students working alone. We wanted to make sure the SiLAS was a multiplayer experience from start to finish. From making social scripts to creating animations, students who use SiLAS are always working together."
The Role Playing Feedback Loop
"SiLAS is effective because of its scriptwriting and role-playing feedback loop. Similar to a star athlete watching game film, students can create animations and then view them immediately at which time those students receive feedback on their performance. . . Our users report using SiLAS to role play unfamiliar social and emotional skills that cause stress–such as asking to sit with someone at lunch or asking to be part of the basketball game at recess–in the game before the real world event has been reported to be helpful for their students."
Custom Rubrics
"We have custom made our rubrics to provide clarity about what is expected from each student who uses SiLAS. Our rubrics are a scoring tool that can be used to assess students skill level on his/her video performance." .
"As we continue to develop SiLAS it is and always will be with goal of making the lessons students learn in SiLAS applicable to the experiences the students will have in their own lives."