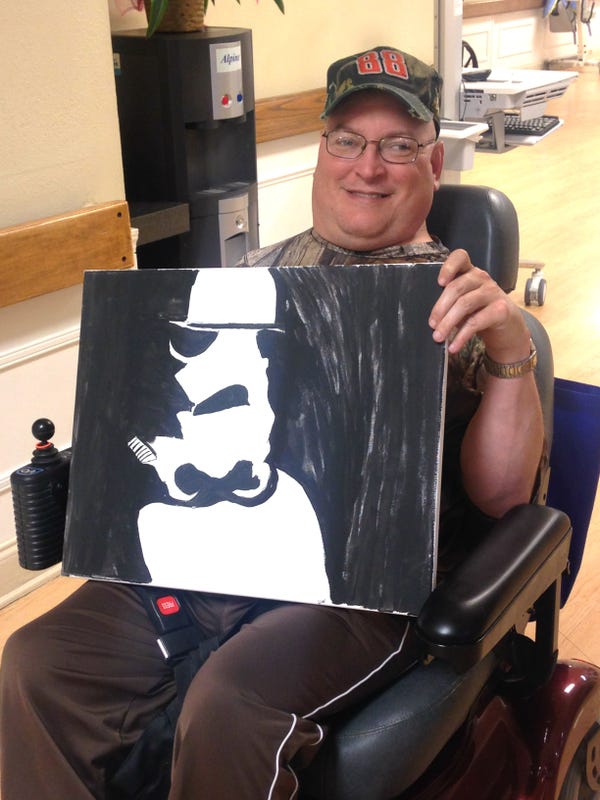 ERIN, Tenn. — Elders at Signature Healthcare have a chance to feel what it's like to be a part of their own art show through Friday, July 9 at the home.
Lining walls of the different communities of Signature this week are flowers, butterflies, summer scenes and red, white and blue paintings fitting this month's Fourth of July theme.
And then, there is the painting that Lisa Moore, Quality of Life Director, called "the little green monster guy."
It turned out to be a painting of Jedi master and mentor to Luke Skywalker, Yoda, from the Star Wars films.
It was crafted by resident and Star Wars super fan, Don Weaver, who also created a black and white negative space style painting of a stormtrooper.
You wouldn't know it from the detailed painting, but when Moore first offered the art program to Signature residents three years ago, Weaver told her he didn't think he was able.
"I have a lot of muscle spasms," Weaver said. "I told her, 'I can't do that.'"
She finally talked him into giving it a shot, and now his creations are a hit.
"Now, he's the complete opposite," Moore said. "He went from not wanting to paint at all to wanting to paint every time he gets a chance."
Weaver worked through the spasms to create these masterpieces built for geeks, and he was willing to share his secret with The Stewart Houston Times.
"I get some help — someone will draw the outline in pencil," Weaver said. Moore added this is done without tracing, drawn from looking at a graphic of the characters.
"It's become a really relaxing for thing for me," Weaver said. "It's all I want to do now."
Every painting created by the residents, posted on the walls, is put up for silent auction, accompanied by a sheet for people to place their bids.Get the Coronavirus Watch newsletter in your inbox.
Updates on how the coronavirus is affecting your community and the nationDelivery: VariesYour Email
Weaver's paintings had received the highest bids. Bidding ends on Friday, July 9.
Moore said most of the bids come from staff or other residents, but the general public is welcome to come name their price — simply come into the building and tell the staff you're looking to bid on a painting.
All proceeds go to refilling the art supplies the residents use.
"These little canvases are expensive," she said.
Weaver is looking forward to his daughter visiting near the end of July, and Moore said she was going to host a painting class at that point, so he and his daughter can paint together.
"She will be graduating soon, so we are going to do a painting for the Class of 2017 with her school colors," Weaver said.
Overview
This article talks about an art show held by a healthcare facility that encouraged elderly patients to participate in creating pieces of art to show the community. One participant found a love for creating art, even though before he tried he did not believe he could do it. He suffers from muscle spasms that would make it difficult to paint steadily. Once he saw his success, however, he became empowered to continue and found a new confidence in his abilities. Although his specific ailment is not named, his situation is applicable to those with hand impairments. Finding a confidence in one's abilities is a key step towards a higher quality of life and self-image. The goal of this project is ultimately to revive the user's confidence in their own abilities.