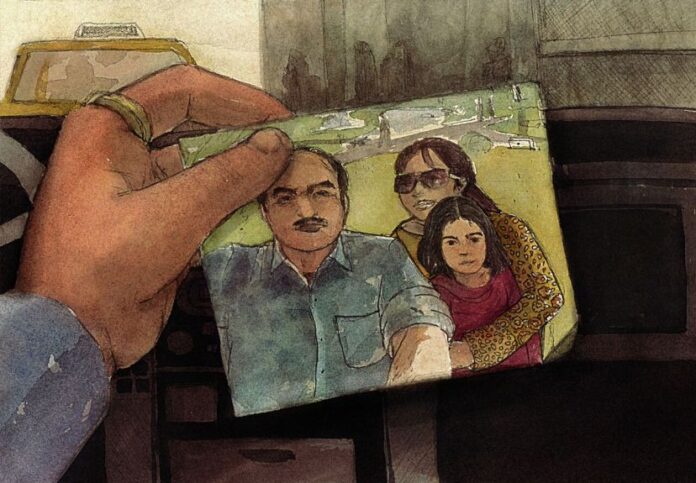 By Tatiana Sanchez
There's the story of Muhammad, the Pakistani driver who wants his 7-year-old daughter to become a doctor. The smiling Zen Buddhist from Morocco currently living in France. And the Bay Area Lyft driver who softly played Arabic music as he drove a customer around.
Marketing executive Wei-En Tan, 37, thought to put some of these stories into a personal blog as a way to chronicle her interactions with strangers during her extensive travels. But that blog quickly grew into something bigger.
With these narratives, Tan founded "Riding up Front," a nonprofit art blog that features the colorful stories of immigrant Uber and Lyft drivers and, occasionally, taxi drivers. Each story — submitted by acquaintances and members of the public — is accompanied with a unique illustration drawn by a network of volunteer artists from around the world.
"The first people I had a chance to have longer conversations with were my Uber and my Lyft drivers," she said. "Some of these stories started getting stuck in my head, and I started writing notes about some of the rides I had taken."
During a trip to Paris in November, Tan decided to create a blog for these stories, calling it, "a fun personal project." She got some of her friends to create illustrations. Then President Donald Trump issued an executive order barring people from seven Muslim-majority countries, and her urgency to tell these immigrant stories magnified. She created "Riding up Front."
"It's easy to just demonize a group of people who you think are terrorists or stealing jobs or taking things away from you and committing crimes," she said. "We're regular people. Something like a travel ban right now is already preventing families from being together. It's causing a lot of pain and heartbreak for no good reason."
Trump's first travel ban went into effect in late January.
It bars refugees from six Muslim-majority countries — Iraq was removed from the executive order — but does not apply to visa-holders. A federal judge in Hawaii has blocked the ban, and the Trump administration has said it will repeal that decision. Trump argues the travel ban is meant to protect the U.S. by keeping terrorists and extremists out.
UC Davis otolaryngologist Anaïs Rameau, a leader at Riding Up Front, said the first travel ban in January affected her family significantly.
Her mother, an Iranian immigrant who has excelled in medicine here in the U.S., was diagnosed with lung cancer last year. She expected a visit from her sister — Rameau's aunt —to help care for her, but Trump's travel ban prohibited her from entering the U.S.
"It's really important to re-humanize human contact and even professional relationships and to remind each other that the individuals who are providing us services also have personal stories," Rameau said. "Often times with Uber (and Lyft), those personal stories are linked to immigration."
Uber said it's proud of its diverse driver base, adding in a statement, "this seems like a very unique and interesting way to share their stories." Lyft did not respond to emails requesting comment.
Sanchez, Tatiana. "'Riding up Front' art group features immigration stories of Uber, Lyft drivers." The Mercury News. March 27, 2017. https://www.mercurynews.com/2017/03/27/riding-up-front-art-group-features-immigration-stories-of-uber-lyft-drivers/
Analysis–
Riding Up Front is an art blog that documents the stories of immigrant Uber and Lyft drivers. Talking to Uber and Lyft drivers is a nice way to get to know a stranger, a stranger with an incredibly interesting backstory.
I found this article interesting because it touched on immigrants. Often times immigrants drive for Uber and Lyft to make quick income for them and their families. Giving them a voice to share their stories can be therapeutic for them and eye-opening for others. Though this article may be a bit different from my topic, I still think it is relevant. This gives us the chance to see the perspective of immigrants working in the transportation sector, especially when reading the actual blog. This article also talks about the travel ban. With this we can see how it has affected these drivers and their families, which could open up another problem space that I could look into.