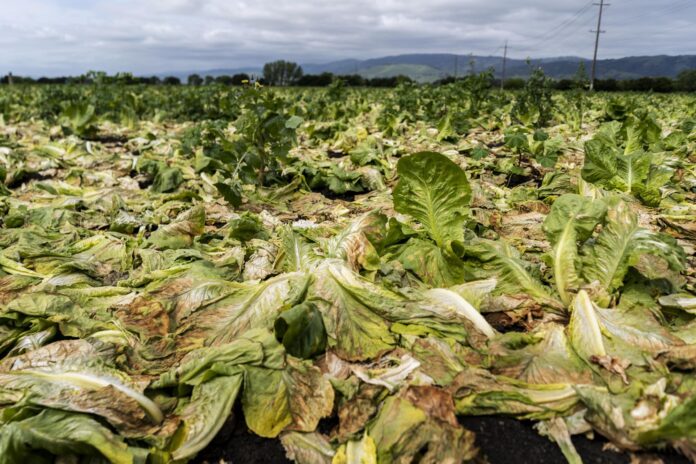 Farmers in the upper Midwest euthanize their baby pigs because the slaughterhouses are backing up or closing, while dairy owners in the region dump thousands of gallons of milk a day. In Salinas, Calif., rows of ripe iceberg, romaine and red-leaf lettuce shrivel in the spring sun, waiting to be plowed back into the earth.
Drone footage shows a 1.5-mile-long line of cars waiting their turn at a drive-through food bank in Miami. In Dallas, schools serve well north of 500,000 meals on each service day, cars rolling slowly past stations of ice chests and insulated bags as food service employees, volunteers and substitute teachers hand milk and meal packets through the windows.
Across the country, an unprecedented disconnect is emerging between where food is produced and the food banks and low-income neighborhoods that desperately need it. American farmers, ranchers, other food producers and poverty advocates have been asking the federal government to help overcome breakdowns in a food distribution system that have led to producers dumping food while Americans go hungry.
Late last week, the Trump administration stepped in, announcing a $19 billion program to help the struggling agriculture sector and distribute food to families in need. The aid package includes the government purchase of $3 billion in dairy, produce and meat products that will go to food banks and those in need. (About $16 billion is going to direct payments to farmers and ranchers.)
But the effort must overcome the challenges that led to the disconnect in the first place: Fresh produce and dairy must be transported from farms to food banks in refrigerated trucks. Refrigerator and freezer storage space must be available on the receiving end to accommodate a surge of frozen meat. Food that originally was slated for restaurant supply must be repackaged for home use. And all of this must occur while maintaining social distancing and without increasing the demand for labor because food banks, while running low on supplies, are running even lower on volunteers.
…
"Over the last 30 to 40 years, the distance from field to plate has grown, putting extreme reliance on a national and global food-supply chain," she said. "As these food-supply chains shut down or become stressed, the food prices will rise, leading to increased food-insecurity rates. There is going to continue to be an astronomical increase of those who need to access emergency food."
Analysis
This article provides a broad overview of the various ways the food supply chain has broken down during the COVID-19 Pandemic and what this means for food access. The article touches on what happened in the produce, dairy, beef and pork industries highlighting the fragility of current systems and their impact on food insecurity when the system fragments.
Additionally, the article evaluates a plan proposed by the federal government to address these issues. Through this, the author highlights important logistical concerns such as mobile freezer space, stationary freezer space, repackaging, and labor issues that need to be addressed in the process.
Overall, this article serves as a good stepping point for understanding what happened during the pandemic, why we were seeing food being dumped in the fields, animals being euthanized, and crops going unharvested while many went hungry. Now moving forward, I intend to use this article to identify which points to dive deeper into in order to understand how to redesign these aspects of systems, products, or services and adapt for the future.
Author: Laura Reiley
Source: https://www.washingtonpost.com/business/2020/04/23/fixing-food-dumping-food-banks/?arc404=true