By Kyle Wigglers (2020)
On the Tempo website, It writes "Intelligently designed, adaptive to you, and anything but boring. With real weights and real-time feedback. It's a home gym that transforms the way you train." Tempo is an AI-powered gym system that has a retail price of $1,995, with a monthly subscription fee of $39.
Tempo has a build-in 3D sensors that track your form, counts your reps, and recommends weights. The AI analyzes 25 of your body's essential joints as you work out. It comes with barbells, changes plates, workout mat. Altogether it provides workout plans that tailored to each individual. To better motivate the user, Tempo also allows them to compete with friends.
The Market
Quarantines and office closures sent fitness equipment sales skyrocketing over the past few months. A report commissioned by eBay collates data on how much gym equipment are consumers buying right now.
"Comparing March and April sales in 2019 for dumbbells with sales during the same period in 2020 we can see an increase of 1980% according to eBay sales data; meanwhile weight plate sales have increased by 1355% in the same period too."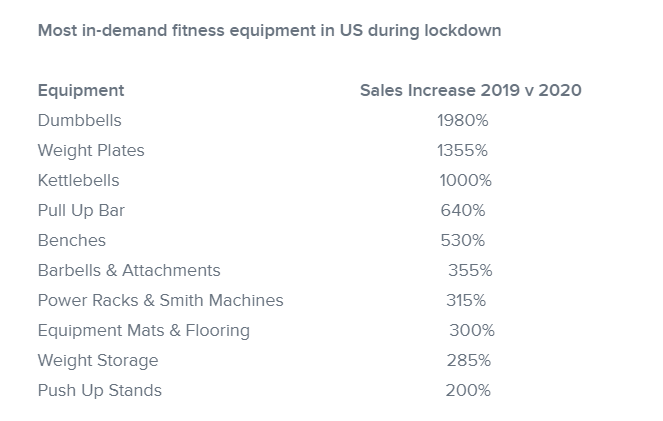 The report also concluded that the amount we are spending is also increasing, $110 on 75% more purchases than before. Tempo also benefited from the boom. They launched preorder in February, and the sales have increased by nearly 500% since then. It's going to reach a $100 million run rate by the end of 2020.
–
The tempo is redefining what a home gym could look like. I love how compactable it is for people who don't a lot of space for exercise. The product launch was at the heart of the pandemic where people are frustrated about close-downs of gyms. I anticipate the company will continue to have a good sales number in the future as COVID continues to have an impact on the fitness industry.