by Aaron Luber | Google | June 18, 2019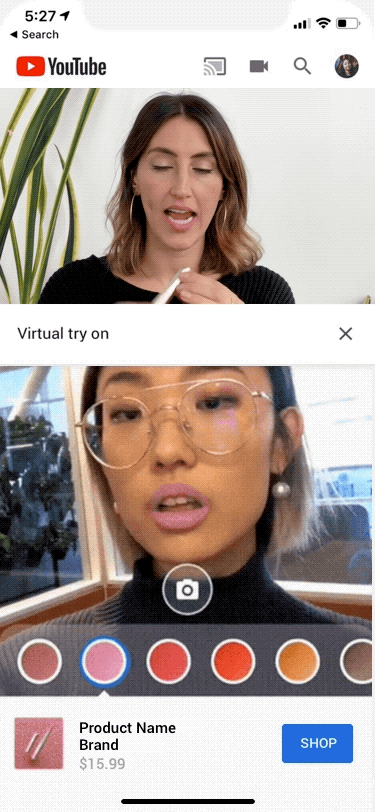 As a three-dimensional, visual medium, augmented reality (AR) is a powerful tool for brands looking to tell richer, more engaging stories about their products to consumers. Recently, we brought AR to Google products like Search, and made updates to our developer platform, ARCore, to help creators build more immersive experiences. Starting this week, we're also bringing AR to YouTube and interactive 3D assets to display ads.
Helping YouTube beauty fans pick their next lipstick
Many consumers look to YouTube creators for help when deciding on new products to purchase. And brands have long been teaming up with creators to connect with audiences. Now, brands and creators can make that experience even more personalized and useful for viewers in AR.
Today, we're introducing AR Beauty Try-On, which lets viewers virtually try on makeup while following along with YouTube creators to get tips, product reviews, and more. Thanks to machine learning and AR technology, it offers realistic, virtual product samples that work on a full range of skin tones. Currently in alpha, AR Beauty Try-On is available through FameBit by YouTube, Google's in-house branded content platform.
M·A·C Cosmetics is the first brand to partner with FameBit to launch an AR Beauty Try-On campaign. Using this new format, brands like M·A·C will be able to tap into YouTube's vibrant creator community, deploy influencer campaigns to YouTube's 2 billion monthly active users, and measure their results in real time.
There was a thing similar to this in a Sephora store I went to in Chicago. I think the technology has not been fully developed to its full potential yet but it is very cool to see in progress. I think this could help solve two different problems right now in the beauty community. One of these being, not being able to try on products when shopping online. Through my research this has been one of the bigger downfalls of ordering online. The AR technology can also help cut back on single-use waste created in beauty stores when customers come in to try on products. Most testers are make for a one time use and if this is shifted to something virtual, it eliminates the need for testers.