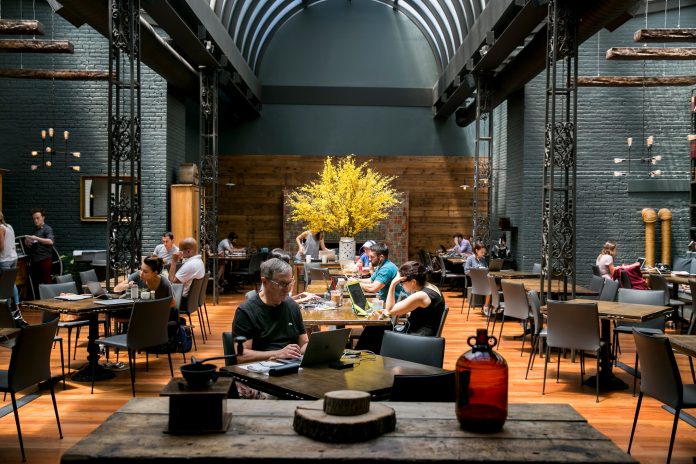 by Nellie Bowles, New York Times, July 8, 2018
Sorry, Power-Lunchers. This Restaurant Is a Co-Working Space Now
Instead, the restaurant was flooded with the low din of typing. That's because the Elite Cafe, from 8:30 a.m. to 5 p.m. every weekday, is not exactly a restaurant anymore and certainly not a bar. It is a co-working space.
The company that laid the extension cords and power strips across Elite Cafe's copper tables is called Spacious. Since it was started two years ago, Spacious has converted 25 upscale restaurants in New York and San Francisco into weekday work spaces. Membership, which allows entry into any location, is $99 a month for a year, or $129 by the month. With $9 million in venture capital it received in May, Spacious plans to expand this year to up to 100 spaces.
A restaurant makes for the perfect conversion, the Spacious team argues. Bars become standing desks. Booths become conference rooms. The lighting tends to be nicer, less harsh and fluorescent, than an office, and the music makes for a nice ambience.
Originally, the founders of Spacious thought they would have to sell restaurateurs on the idea. Instead, restaurants, struggling to pay rent and wages and frustrated with disappointing lunch traffic, are coming to them, eager to strike deals for a slice of the membership dues.
Jeff Bernstein, a venture and capital markets adviser, said the setup was more inherently social than a co-working office. At least once a week, he stays after the workday and has drinks with someone from the space.
"You can get immersed in your stuff, or you can notice somebody doing something interesting three stools away and you can chat with them," he said. "Because you're at a bar."

Analysis: I really like the concept of shared space. Space is a limited resource and allowing people to fully utilize the space while benefitting themselves economically just makes sense. I know how difficult lunch is for many restaurants, and margins are small because of rent costs. Additionally, it makes it harder to pay employees good wages when sales aren't consistent. I also love the fact that it brings people together for work, but most of them socialize more than work. This can spark new friendships, closer communities, and foster new ideas.