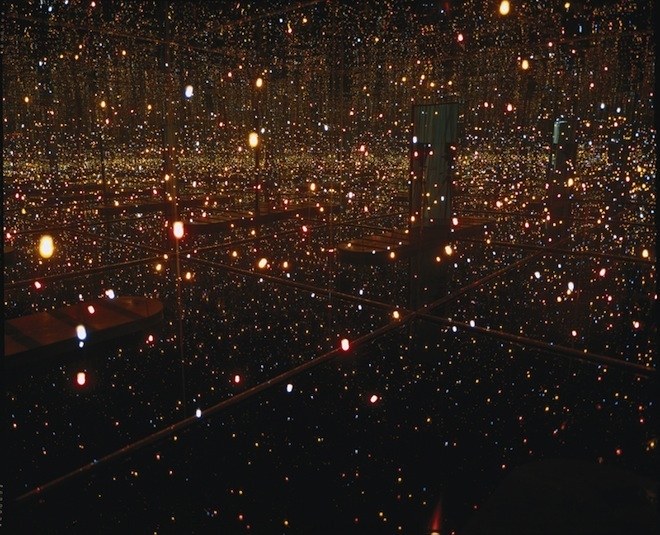 by LIZ STINSON, Weird Magazine, December 4, 2013
A Glittering LED Wonderland That People Are Waiting Hours to See
Walking into one of Yayoi Kusama's infinity rooms is like walking into a completely different universe. The door shuts behind you, and suddenly you find yourself surrounded by what appears to be a galaxy of shimmering LEDs. The scene is beautiful, in a surreal, space-age fairy tale sort of way. 
Kusama says the kaleidoscopic rooms are her attempt to investigate death and infinity.
In her new room, Kusama has again suspended multi-colored LEDs from the ceiling at varying lengths that reflect off of the mirrored walls and shallow pool on the floor in a strobe light pattern that repeats itself every 45 seconds. Just down the street at the gallery's connected space is another infinity room, Love Is Calling, which this time is filled with brightly colored inflatable sculptures covered in polka dots that shoot up from the floor and hang from the ceiling like technicolor tentacles.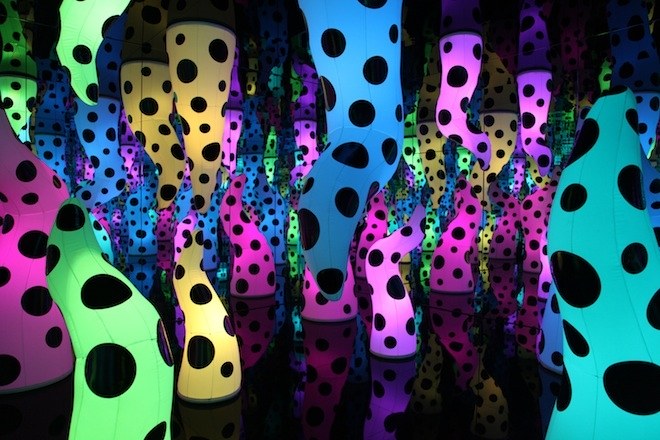 The artist says the kaleidoscopic rooms are her attempt to investigate life, death and infinity, and if you're prone to existential pondering, it's easy to see that connection. Contemplating the infinite does have a way of drudging up those "what's it all mean?" feelings. 
This article briefly introduces Japanese artist Yayoi Kusama and her series of works surrounding infinity rooms.
The mirrors and warm-hued small LED lights worked side by side to create a fairy tale-like space. The reflection of the mirror helped adding a sense of infinity.