Jennifer A. Rabbitts, Rachel V. Aaron, Emma Fisher, Emily A. Lang, Caroline Bridgwater, Gabrielle Ghafari Tai, Tonya M. Palermo
Highlights:
Families experienced major surgery as a stressful event, well beyond return home.
Families felt under-prepared for surgery, particularly pain and physical recovery.
Families and providers were interested in a perioperative psychosocial intervention.
Flexible delivery of an intervention teaching coping skills at home would be ideal.
''Having the resources once they leave and they're at home in an environment where they feel safe and comfortable gives them a chance to reprocess, reabsorb information. practice it and sometimes not be overwhelmed by the environment.'' (Child Life Specialist 2)
Abstract
Research developing targeted treatment focused on coping with children's long-term pain after surgery is needed because of the high prevalence of chronic pain after surgery. This qualitative study aimed to: 1) understand the child's and family's experiences of pain over the course of their surgical experience, and 2) gather stakeholder input regarding potential barriers and facilitators of perioperative intervention delivery. Fifteen children ages 10 to 18 years who underwent recent major surgery, their primary caregivers, and 17 perioperative health care providers were interviewed. Interviews were coded using semantic thematic analysis. The perioperative period presented emotional challenges for families. Families felt unprepared for surgery and pain. Recovery and regaining physical functioning at home was challenging. Families struggled to return to valued activities. Families reported interest in a perioperative psychosocial intervention. Providers endorsed that families would benefit from enhanced coping skills. They emphasized that families would benefit from more detailed preparatory information. Providers suggested that flexible intervention delivery at home would be ideal. Research developing interventions addressing pain and anxiety in children undergoing major surgery is critically needed. The findings of the present study can inform intervention development with the aim of improving short- as well as long-term recovery in children undergoing major surgery.
Perspective
This qualitative study examined children and their parents' experience of long-term pain and recovery after major surgery, identifying barriers and facilitators of perioperative intervention delivery. Families experienced surgery as stressful, and felt underprepared for pain and recovery. Families and health care providers expressed interest in a preoperative intervention teaching coping skills.
''Sitting in class is something that's been harder. I don't really know how to correct that for myself and be able to be, like, super engaged and listening the whole time.'' (Child 11)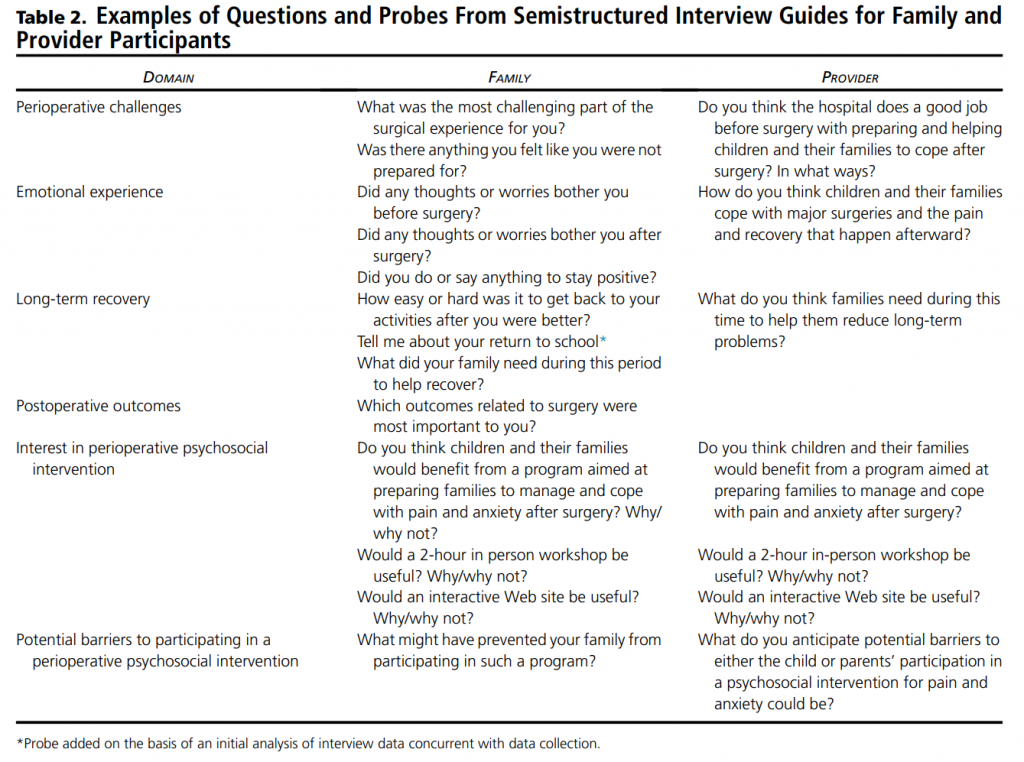 The report gives direct quotes from patients about their experience. It provides a patient's view on recovery, pain tolerance, and discomforts during the postoperative period. The report also draws expert knowledge from Child Life Specialists, doctors, parents, nurses, and more.