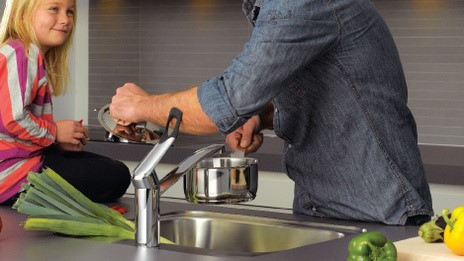 Original Article:
Damixa Clover Easy by Design and Architecture Norway
http://www.inclusivedesign.no/product-graphic/damixa-clover-easy-article140-265.html
"Damixa is known worldwide for mixer taps that combines Scandinavian design with great functionality. Damixa calls it: "When design makes sense". Damixa asked the Danish design firm DESIGN CONCERN to design the new Damixa Clover Easy handle by looking into user with special needs.
PROBLEM
First and foremost design and function go hand in hand. Designing an efficient mixer tap is a challenge: it must function as a regular part of your interior making the style match your surroundings and at the same time it is a tool which must ensure that you can easily turn the water on and off many times each day. It should work for you and all other users, both aesthetically and functionally – your whole life. The purpose of the philosophy "Design for all" is to design physical surroundings and everyday products that give everyone equal opportunities to work and be self-reliant in everyday life…
APPROACH
At DESIGN CONCERN we have an user-democratic approach and use many resources to identify and understand the needs, expectations and preferences associated with the use of a diverse products. And with insight into user needs, we can create new products that combine stylish Scandinavian design with optimal functionality that takes Damixas design philosophy "when design makes sense" to a full potential.
In this project DESIGN CONCERN work with a five step design process:
1. Analysis of diverse user needs like users with arthritis – user interaction and observation
2. Creative design and idea development on the basis of user input and observation
3. Development and testing of prototypes – user interaction and observation
4. Adaptation of design on the basis of user input and observation
5. User testing before market launch – user interaction and observation"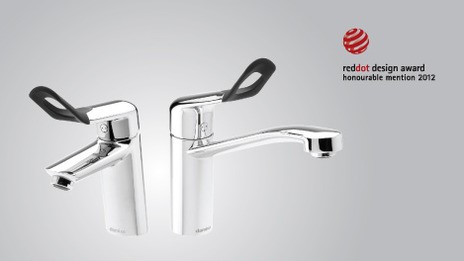 RESULTS
Designing products for users with different abilities call for knowledge about user needs and everyday life. DESIGN CONCERN has achieved this insight through many years of working with people suffering from sclerosis, arthritis, and other groups with special user-needs. We believe in products that offer both great functionality and great aesthetics at the same time. Damixa Clover Easy is an example of this philosophy. The handle looks just like a nice mainstream product and at the same time it opens and closes with a light touch, either by hand, arm or elbow allowing all users to operate it.
It can be used equally easily by anyone; regardless of whether it is small child's hands, hair that should be washed or a toothbrush that needs to be rinsed clean. The handle has a soft, wavy look and a nice rubberised surface that is pleasant to touch. The hole in the middle has a clear practical function but at the same time, the shape is self-evident: "Grab here" so you are not in doubt about how to operate the handle – function and aesthetics in perfect harmony."
Damixa Clover Easy is another great product designed with accessibility, specifically for those with chronic illnesses such as arthritis, in mind.