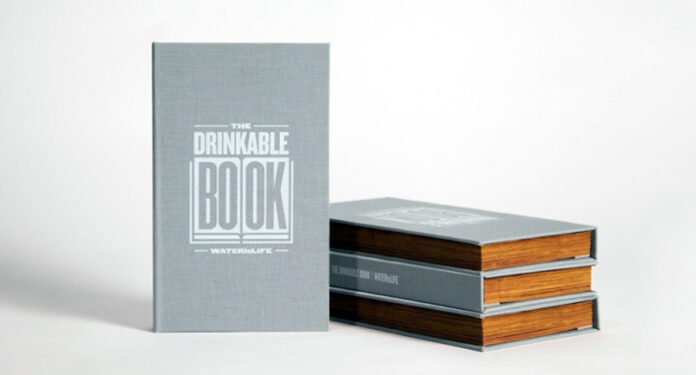 Finding clean water for the entire world to enjoy has been an ideal that's gone unsolved, but not for lack of trying. Scientists, chemists and designers have been on the challenge for years, coming up with solutions that technically work, but might not necessarily fit into the budgets of those really in need of a tall glass of the good stuff. Non-profit Water is Life teamed up with scientists and engineers from Carnegie Mellon and the University of Virginia to come up with a solution that's a little more wallet-friendly than a water generator: the Drinkable Book.
The 20 corrugated pages in this booklet are actually filters that block harmful water-borne bacteria like cholera, E. coli and typhoid from getting into your water. Dr. Theresa Dankovich was able to create a paper coated with silver nanoparticles—tiny pieces of silver between 1 nm and 100 nm in size—which gets rid of more than 99.9% of dangerous bacteria. While the Drinkable Book's primary intention is to provide safe drinking water, it also covers another very important link that's been missing from the equation: education. Most people who catch water-related diseases have no idea that the drinking water is unsafe to consume. Each page of the book displays different water safety facts and tips for readers/drinkers.
Costing only pennies to produce, each filter lasts up to 30 days; do the math and that adds up to almost four years of filtered water (each page is separated into two filters). The book itself looks fantastic, as well—props to designer Brian Gartside for this do-good eye candy. What are your thoughts—is this the clean water solution we've all been waiting for?
Analysis:
This article talks about creating clean water from new and innovative method. By using filter that look like book pages, they were able to offer individuals an interesting way to provide clean water. This research was unique because it also offered an educational solution in the design and lets the users know about water safety facts.