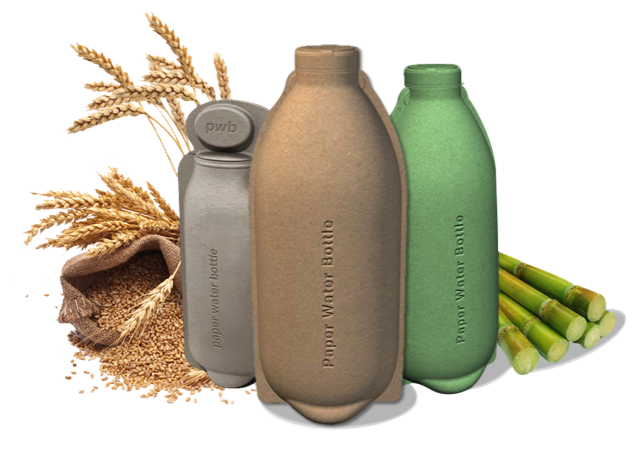 Paper Water Bottle® – the 1st of its kind in the world – meets both consumer demand and brand owner requirements for real eco-friendly solutions. Paper Water Bottle is a pulp packaging and product company integrating best-in-class strategic assessment, consumer insight, creative and technical design and development, material science, technical and engineering design and development through production and distribution.
The Paper Water Bottle pulp material is made from sustainable combinations of plant-based fibers to allow optimum user-functionality, effective branding, operational efficiencies, and clean/efficient biodegradability and compostability.
"We Help Save Our Planet" is our corporate pledge to people around the world. Paper Water Bottle is our brand name. It's also the namesake of our inaugural package epitomizing our mission and brand promise. We invented a water containment made of a compostable pulp shell, OTR/MVTR barrier, closure, and label. We have been awarded 16 global patents en route for our packaging to be Backyard Compostable™.
For the packaging category, Paper Water Bottle has addressed the issue of 80 billion plastic bottles being produced annually, over 80 percent ending up in landfills or oceans, and the harsh reality that it will take 800 years to biodegrade. Imagine the possibilities… We do!
Analysis:
This articles discuss the bottle, "paper water bottle" which was a eco friendly solution to plastic water bottle. The goal of the brand is to look to other way to sustainable method and this article illustrated that there are simply ways to be more sustainable and resourceful.