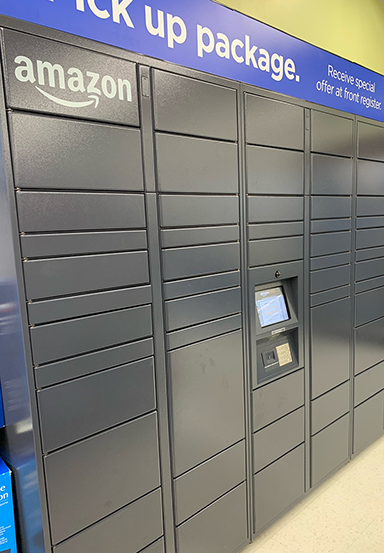 A package is delivered: you are home, but the delivery person did not knock or ring the bell, so you don't realize it is sitting outside your front door. Or worse, you receive a text that your package was delivered, open your front door, and find nothing. Unfortunately, this scene plays out in Cedar Mill and surrounding areas every week since so many of us are ordering online these days.
Front door cameras help identify the thieves, however thieves are adapting to the technology and covering up to avoid being recognized. Sometimes a description of the getaway car helps, but sometimes that car is also stolen. If you frequently order from Amazon, you should consider having your package delivered to an Amazon Hub Locker.
I recently had the opportunity to use an Amazon Hub locker for delivery and it was simple and secure. Instead of clicking on my default address when checking out in Amazon, I clicked "Change" and scrolled down to "Your Pickup Locations." Next to that is the word "Map" in blue. You can choose the location Amazon thinks is near you or you can look at the map for other locations.
Business owners pay nothing to have the lockers installed indoors or outdoors at their location and may enjoy the opportunity of increased foot traffic as people retrieve packages at the secure lockers. Locker banks contain various size lockers and an inset computer with barcode scanner.
Once a package is ready for pickup, you receive an email. You have 48 hours to pick it up. Once at the locker site, bring up the email on your phone. The Amazon email contains the barcode and unique 6-digit code of your delivered package. Use the locker scanner to scan the barcode off your phone.
Analysis
Amazon lockers have become widely used for package safety, and it works really well. It's convenient, safe, and very easy to use. The system doesn't need any interaction with a anyone else, other than the machine or unless the machine doesn't work. For those that want a quick and no interaction, it is a great system that can be done electronically and on your phones. The whole system is very self explanatory and fluid, that even someone's first time there will be able to easily use it with no problem and for this day and age where there is growing amount of people that don't want to interact with an individual more than necessary– this is amazing.