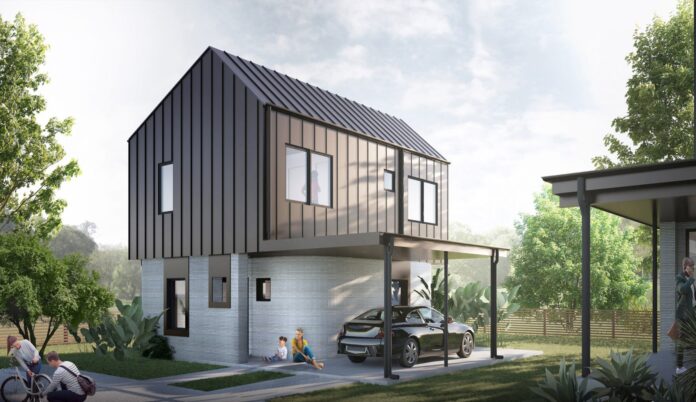 Author: Jane Englefield
Date: 03/16/2021
Developer 3Strands and construction technology company ICON have built four 3D-printed houses in Austin, Texas, from concrete that's designed to cope with extreme weather.
Named East 17th Street Residences, the houses are made from ICON's Portland cement-based material Lavacrete.
Lavacrete is designed to withstand extreme weather conditions and is also mould-resistant.
"ICON's proven 3D-printing technology provides safer, more resilient homes that are designed to withstand fire, flood, wind and other natural disasters better than conventionally built homes," the company told Dezeen.
In 2019, ICON produced seven houses at Community First! Village in Austin to provide for those who were formerly homeless. The houses were unharmed during Texas' particularly harsh storms at the start of this year.
East 17th Street Residences were printed from Lavacrete using the company's own 3D-printer, The Vulcan, named for the Roman god of fire and volcanoes.
Varying from two to four bedrooms each, the four houses were designed by Logan Architecture for developer 3Strands.
3D-printing has now finished, and the homes are currently being fitted to be ready for residents to move in this summer.
It took five to seven days to print each house. ICON claims that The Vulcan can print Lavacrete more accurately and at a higher speed than manual labour so that the houses are cost-effective and well-built.
Situated in the East Austin neighbourhood, each house has large North-facing windows with vaulted master bedrooms and open floor plans.
The spacious properties also include covered front porches and parking, as well as front gardens.
Due to their well-insulated walls and central heating, the houses have high levels of heating, ventilation and air-conditioning performance.
Analysis:
I discovered this article while trying to answer my question, "Are 3D-printed structures considered completely safe?" As it turns out, apparently they can not only be safe, but even safer than traditional materials and methods. Printable materials like Lavacrete can be engineered to resist disasters like fire, flood, and wind. That is a game changer for applications in certain areas like hurricane zones. My reflection on this is pretty straightforward: How could these safety characteristics be utilized in a non-housing context?
Source: https://www.dezeen.com/2021/03/16/icon-3d-printed-houses-austin-texas/