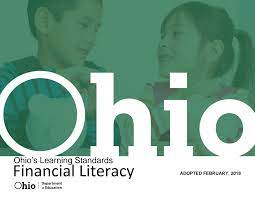 Author: Ohio Department of Education
Date: February, 2018
Link: https://education.ohio.gov/getattachment/Topics/Learning-in-Ohio/Financial-Literacy/Financial-Literacy-Standards/FLFinalStandards060518.pdf.aspx?lang=en-US
As of February 2018, The State Board of Education has successfully implemented financial literacy as a required topic in Ohio's official law for all K-12 grade levels. Starting from fundamentals in kindergarten, schools in Ohio are required to continue to build these skills through secondary school to prepare for high school and beyond.
Ohio's Learning Standards for Financial Literacy will incorporate: financial responsibility and decision-making, planning and money management, informed consumer, investing, credit and debt, and risk management and insurance. Their goal is to balance knowledge, conceptual understanding and skill development; address a set of topics that will provide a leeway for students to make appropriate financial decisions; cover various financial literacy topics; and develop performance across the different grade levels.
Financial Literacy Topics that are required to be covered:

Financial Literacy Standards for Middle School: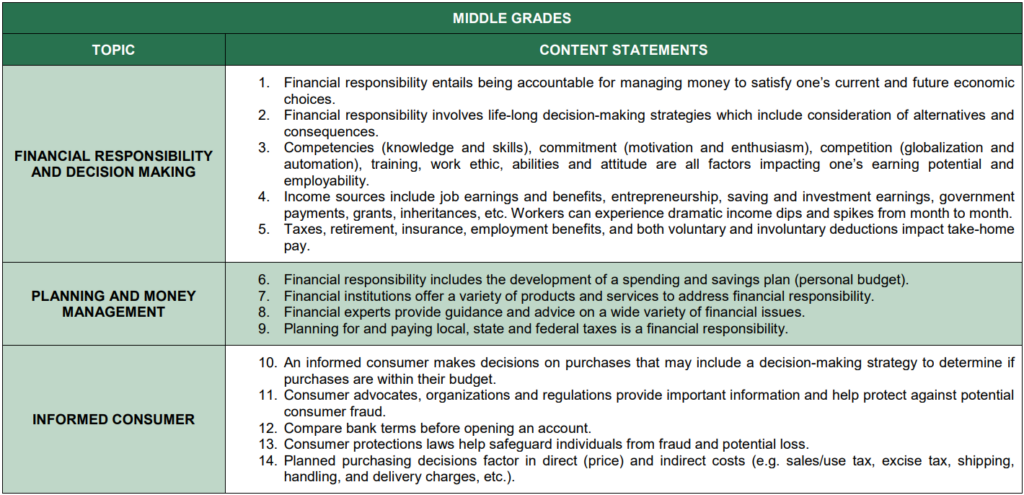 Analysis
Financial literacy understandably covers a vast amount of vague topics that could take years to master. After visiting different sources explaining how other education systems were able to implement financial literacy, it was insightful to narrow that scope down to Ohio specifically. As I, personally, along with some of my other peers have only had limited amounts of exposure from school on how to manage our finances and understand the system between being a consumer and a seller, it is also encouraging to see that more topics are now being implemented as a law rather than a suggestion in the education field. These topics are also extremely relevant to the potential variables that could deter this project's direction–whether that's to help children understand the topic of insurance, managing their debit/credit, or even making loans. Additionally, understanding that these topics are already covered in class opens opportunities to implement topics even further than these or potentially apply them in a more complicated, yet realistic, context for their future reference.