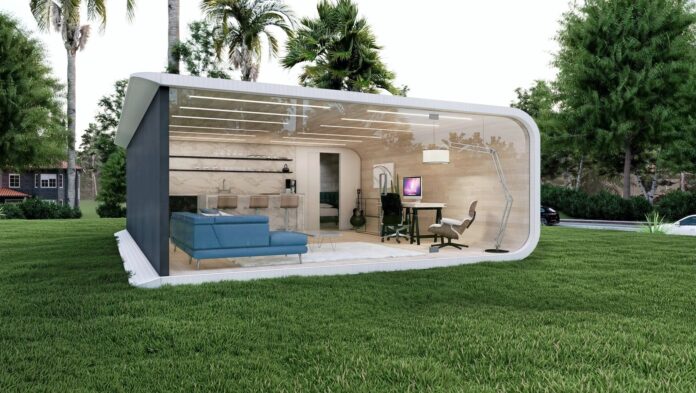 Author: Hayley Everett
Date: 02/24/2022
Hot off the heels of opening its new 15,000 square foot factory in California, Azure has been chosen by Oasis Development to create 14 3D printed prefabricated homes in Ridgecrest, California, made entirely from 3D printed plastic. 
Azure Printed Homes was founded in 2019 with the goal of developing homes faster, more economically, and with less of an environmental impact. The company already manufactures and sells 3D printed backyard studios and accessory dwelling units to homeowners, and is reportedly the first construction firm to repurpose plastic waste as a primary home building material.
Now and in line with its original mission statement, Azure is scaling up its capabilities to build 3D printed houses for Oasis Development's new housing community.
"Azure is excited to prove the concept of this technology, and to become a partner of choice for home builders," said Ross Maguire, Azure's CEO. "It's great to partner with Oasis Development in Ridgecrest, on a genuinely innovative project aiming to demonstrate the benefits of 3D printing using recycled materials."
With its 3D printing technology, the firm says it can build structures 70 percent faster and with 30 percent fewer costs than traditional home construction techniques. The company hopes to reduce homeowners' energy bills entirely through a combination of building airtightness and the use of low-carbon technologies like heat pumps and solar panels.
Azure will begin 3D printing the 14 homes in August this year, and plans to have completed the entire build by the following month. The homes will form the first community of durable homes 3D printed entirely using waste plastic material intended for landfills, incineration, or that would have ended up in our oceans.
Analysis:
This example isn't 100% translatable to my research topic because the material (and therefore, the process) is markedly different. However, there is still a lot to learn from this. Most notably, these large structures that Azure is making are constructed off-site, making for minimal work when they are dropped into place. There are real contextual benefits to this. For example, the final destination (your backyard, say) doesn't need to be under construction months while your addition is being built. If we visually analyze the photos in this article, some other things jump out. For one, they really take advantage of what additive manufacturing affords. Why have perfectly vertical walls when you could and some eye-catching curves? Finally, and perhaps most applicably, building off site and installing somewhere else allows for the final orientation to be different than the way the structure was printed. That may sound obvious, but it has big implications for the geometry that could be designed.
Source: https://3dprintingindustry.com/news/wasp-and-azure-printed-homes-take-strides-in-sustainable-3d-printed-homes-205014/