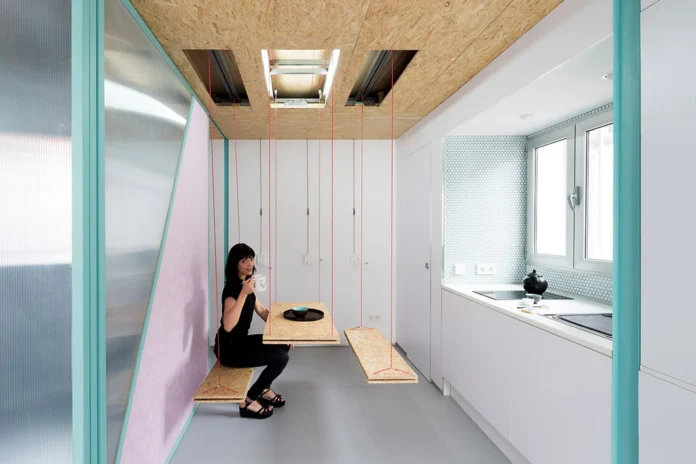 Summary:
In this article, there are ten different apartments that have some sort of adaptable feature to them. Whether that is sliding walls, murphy beds, collapsible storage, or modular furniture, it allows the user to configure their apartment to their liking. These are often used for smaller spaces such as studio apartments or apartments with open-floor plans to accommodate more or less people. Each example has brief excerpts but offer links to learn more about each. Here are some of the examples:
Located on the Spanish coast, this apartment designed by PKMN Architectures contains moveable modular storage walls in the main living space. These can be rotated to enclose different areas of the room so that they can be used as bedrooms. Each of the moveable partitions, which were constructed from steel and wood, incorporates a fold-out bed.
Spanish studio Elii Architects converted this loft apartment into a home that makes optimal use of its space and can be adapted for different activities. Sliding pink partitions allow the floor plan to be opened up or divided into smaller spaces. Concealed storage and furniture, such as a fold-out vanity built within the floor of the mezzanine, as well as shelving, tables and seating that drop from the ceiling provides the resident with a flexible and interchangeable home.
Reuetemple created a cube on wheels that can be used for seating and sleeping within this apartment. The modular furniture piece is comprised of three parts that can be arranged to form a long line of sofas, or placed in a cube formation so that it can be used as a bed or an enclosed room."
Analysis:
Adaptability was the main reason I found this article critical to my research, but it also was inspiring to see the different examples all over the world of how to make a space conform to the needs of the user. Since the Digital Public Participation Lab will be used by a variety of different people with a variety of different use scenarios, it is important that it can be adaptable. While this doesn't necessarily mean there has to be sliding walls and pullout beds, it was interesting to see how these different designers considered all the uses of a small space. Also, there were some interesting ideas regarding storage; especially the Didomestic apartment in Spain, where the bench and table collapsed from the ceiling! Although this project is not architectural, it allows me to wonder, how can the furniture in the DPP lab interact with the overall architecture, is there room to explore this? There are many dichotomies of the DPP lab, how can it be public and private? How can it be professional yet fun? How can adults & children engage in the space? Could the playfulness of creating your own space be built into my concept for the DPP lab? I don't know, but it is sure fun to think about.
Source:
James Parkes |18 September 2021 Leave a comment. (2022, February 11). Ten apartments with adaptable and reconfigurable layouts. Dezeen. Retrieved August 31, 2022, from https://www.dezeen.com/2021/09/18/ten-apartments-adaptable-reconfigurable-layouts-lookbook/