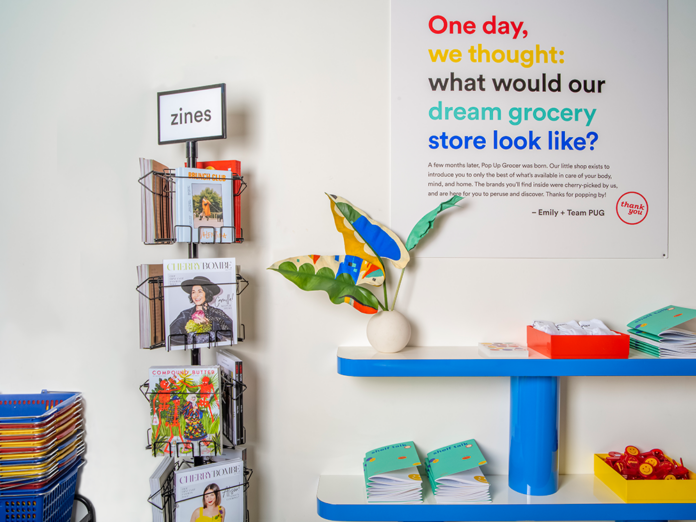 Source: https://www.grocerydive.com/news/grocery-shopping-but-make-it-fun-how-pop-up-grocer-is-fueling-product-d/625416/
Overview:
What's lacking in today's grocery shopping?
We live in an age of excess. Brands suffer because it's nearly impossible to get noticed, whether on the shelf or online. Customers suffer because we're overwhelmed by options. This is creative a place where the selection is edited, and thus exciting. Grocery stores are an initial in-person interaction. Food, beverage, home, and body products are very intimate. They are consumed and absorbed by our bodies. They are personal choices that say something about who we are and how we live our life. We don't want to make that choice with a click of a button, at least not initially.
As grocers look to step up product discovery and make their aisles of packaged goods less drab, a pop-up retailer is showcasing a few ways to shake up the grocery shopping experience. Pop Up Grocer founder, and CEO Emily Schildtaims is creating temporary locations — and soon-to-open permanent store in New York City — destinations for product discovery of dry and refrigerated packaged foods in tiny storefronts featuring vibrant colors, selfie mirrors, and disco ball happy hours.
Each pop-up location has between 120-150 brands, which are largely food and beverage but also include pet, body care, and sometimes home care in spaces that are roughly 1,000 square feet. Shoppers at Pop Up Grocer locations can expect to find better-for-you products and brands with founders who are women, people of color, or part of the LGBTQ+ community. That's intentional, Schildt said, and stems from Pop Up Grocer's sourcing criteria that seek out brands that are interesting, focus on responsible sourcing, and have "attractive" packaging. Pop Up Grocer deliberately includes more recognizable brands such as cereal brand Magic Spoon or snack maker LesserEvil to help boost trust among shoppers in its sourcing credibility. Along with providing brands with long-sought shelf space, Pop Up Grocer is also helping them grow and refine their business. The Pop Up Grocer Fund gives 5% of in-store sales from each pop-up location to an emerging CPG brand.
Analysis:
I love the inclusivity and simplicity of this project's goals and products. It takes the overwhelming situations of the grocery store and invites a more intimate relationship with your choices and groceries. Its vibrant colors, freshness, and ability to adapt and change consistently are very modern ideals of what consumers are looking for nowadays. This article allows me to come into this project with an open mind to different approaches whether that's a part of the in-store or out-of-store experience.