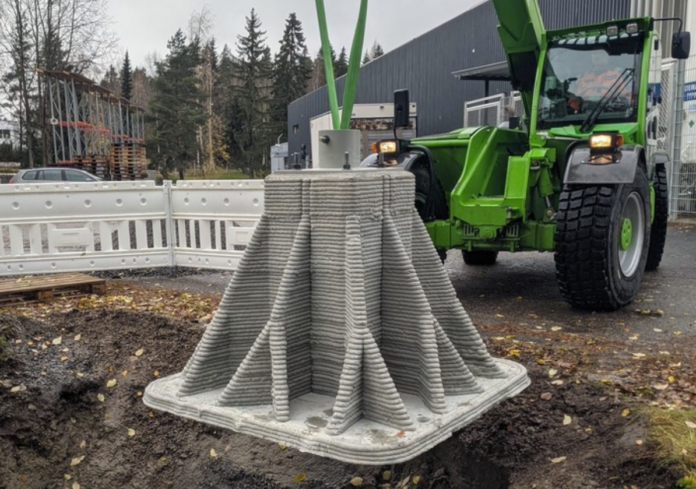 Article posted 3/31/22
After water, concrete is the second most-consumed material on the planet and its production is substantially growing, expected to increase from 4.4 billion tons, reaching production up to 5.5 billion tons by 2050. Unfortunately, this comes at a huge environmental cost, accounting for almost eight percent of the global carbon emissions. With this estimated expected growth, stakeholders in the construction industry must work on integrating sustainable building materials and innovative processes.
With its innovative 3D printing Micro-factories, Hyperion Robotics is reducing the amount of structural concrete required by up to 75% and the amount of waste produced significantly. Not only does the solution make the process more sustainable, it also improves health and safety conditions as robots are the ones doing the hard labor whilst workers supervise the process.
Recycling is another problem of the industry that is being solved by Hyperion's robotic 3D printing solution. Currently, most of the waste material is not being recycled, but the printing system makes it possible to use reinforced low-carbon concrete made with a combination of end-of-cycle materials from the industry such as blast furnace slag, fly ash, mining tailings, and demolition waste, which contribute to significant cost savings and 90% reduction of embodied CO2 emissions.
Hyperion's latest project in collaboration with the renewable energy company Iberdrola and the supplier of connection technology for concrete elements Peikko Group was just kicked off with the first in the world 3D printed pad foundation.
"This [3d printed] foundation is very special. It has been designed, engineered, and printed with the help of Peikko and Iberdrola. Being the first in the world – it is saving 75% of the material – compared to traditional pad foundation, which you can typically find in energy infrastructures or any other type of projects." Henry Unterreiner, co-founder at Hyperion Robotics, said.
https://www.archdaily.com/979145/3d-printing-with-low-carbon-concrete-reducing-co2-emissions-and-material-waste
Analysis
I chose this article because I was inspired by the simplicity of it. By simply redesigning a structure's base, it is saving up to 75% of the material. That is huge! It just goes to show that things we may think of as "standard" can often be altered without giving up structural integrity. So many efforts have been made to develop new materials, processes, or technologies to reduce our global footprint, yet sometimes the answer is as simple as redesigning what we know to reduce overall material use. It helped me to realize that more eco-friendly concrete options already exist. It is important for designers and businesses to research their options rather than always going along with the standard option.
This will be helpful to my project development as it challenges me to question what I already know about structure – it challenges me to recuse/recycle what I can, and to be conservative with material.
Take-Aways
Sometimes less is more – redesigning for efficiency can be just as effective as new technology
Challenging what is viewed as a "standard" can lead to relevant innovation – Both in form and material