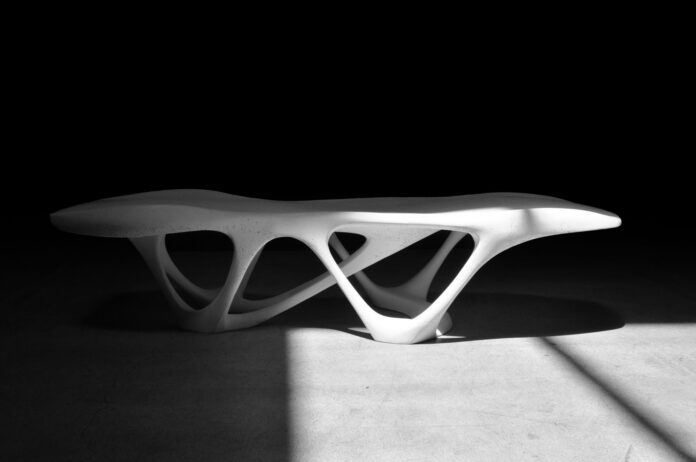 Author: Kubi Sertoglu
Date: 4/28/21
U.S.-based experimental design studio Slicelab has developed a novel concrete table using a 3D printed mold.
The artistic furniture piece is called the Delicate Density Table, and it features a fluid, almost extra-terrestrial form. Weighing in at 86kg and measuring 1525 x 455 x 380mm, the table is cast entirely out of white concrete, striking a 'delicate balance' between aesthetic form and highly-functional material density. The company embarked on the project in a bid to see just how abstract and detailed concrete can get while still being structurally rigid.
Slicelab writes, "The intent of this project was to research a new fabrication and mold making method for complex concrete forms by using 3D printing. With concrete's ability to take on any shape, it shares a strong similarity to how rapid prototyping is able to produce nearly any geometry. The potential of combining these two mediums was seen as a great opportunity.
Analysis:
This article was really great to see the aesthetic contrast between this table and the crude, boxy, industrial structures usually made by concrete 3D printers – but they both use the same material. Of course, the unique and delicate geometry here was achieved not through direct additive manufacturing, but through 3D printing for mold-making. While this doesn't make use of the technology I am exploring, I see this process as a potential compliment to the BOD2 printers capabilities. I can imagine a projects that involve a combination of the BOD2 used for an overall structure, with specific, finer detail features being produced and added via concrete molds. While born from different processes, the different components could still harmonize with a shared material language.
Source: https://3dprintingindustry.com/news/slicelab-spearheads-concrete-furniture-using-3d-printing-technology-189243/