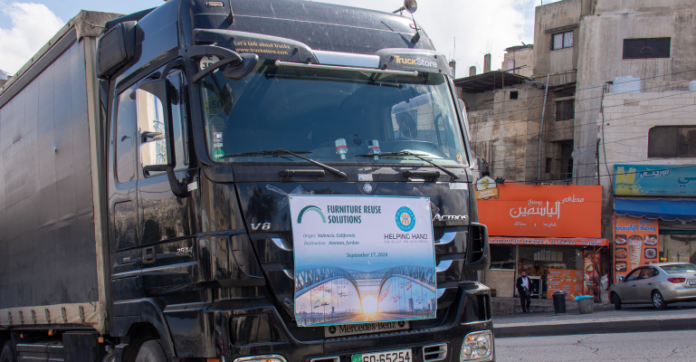 Author: Arlene Karidis
Date: May 28, 2021
Publisher: Waste 360
About 10 million tons of furniture were landfilled in 2018, according to the U.S. Environmental Protection Agency (EPA), and the disposal rate is likely higher today as furniture waste has been on the rise for as long as EPA has tracked it. The pattern is driven largely by several trends: 1) manufacture of "fast furniture,"— cheap products not intended to last long; 2) a preference, especially among many millennials, to move frequently and not want to haul their furniture; and 3) businesses' tendency also to rapidly replace furniture.
Scott Goldblatt, director of Marketing for furniture rental company Fernish sees the first two of these trends firsthand. And the Los Angeles-based company's business model is centered around responding to them: that is, satisfying transient consumers' preferences while keeping better-quality furniture in circulation.
"Our customers can use furniture as long as they want, then give it back to us to rent to someone else so we can give it a second, third, and even fourth life," Goldblatt says.
Monthly rental fees start at $49, with terms between two and 12 months.
The company's pitch is that it offers flexibility and convenience. Customers can renew leases, swap items out, or buy what they had rented if they chose. Fernish delivers, assembles, and picks up furniture at no charge.
The company saw a 1,700% revenue spike over the past two years, and spared 247 tons of furniture in 2020 alone, according to Goldblatt.
"That's the equivalent weight of about 2.5 blue whales. And if you looked at furniture dimensions/size and place what we salvaged end to end it would reach 7.1 miles below the ocean surface," he says.
[Where the whales and ocean analogy come in is that Fernish makes graphic displays representing furniture as whales to align with the seascape theme of its outreach materials.]
Customers find furniture online, searching Fernish's website by room type. The company is now beta testing furniture with an augmented reality feature (technology that lays computer-generated images over a user's view of the "real world"). Shoppers would be able to scan the barcode and see how a piece of furniture fits into a room.
Fernish works with several furniture manufacturers, with some being Crate and Barrel, CB2 which is its subsidiary, and Floyd.
"We make sure their furniture is high quality and 'circular-ready,' where we can bring it back and it needs only minimal refurbishing," Goldblatt says.
They look for products with high modularity, for instance with legs or couch covers that can be replaced.
Partnerships have been key to growing clientele. The team works with apartment building property managers and owners to connect with tenants as they move in or out and also works with companies that stage homes for sale and with real estate agents.
These relationships are helping the team keep a pulse on a market driven by a growing trend—a trend whereby ownership is less of a priority for many people, especially young folks.
"Now there are models like Uber or even clothing rental options. We are trying to adapt to preference with a similar model for furniture," Goldblatt says.
It's not just individual consumers who are quick to unload furniture; businesses are part of the "f-waste" pile up too. About three-quarters of furniture that businesses no longer want ends up landfilled according to research of Zeeland, Mich.-based furniture designer and manufacturer Herman Miller. This reality was a large motivation to launch its rePurpose program, whereby corporations resell, recycle, and donate surplus assets. It helps them meet sustainability goals while providing for nonprofits looking to fill their office spaces.
The program is managed by sustainability firm Green Standards, who works with corporations in North America: General Motors, Adobe, and Expedia Group among others who have collectively donated about $33 million worth of furniture while diverting over 81,000 tons of it from landfill, according to Green Standards.
Furniture Reuse Solutions also salvages office furniture, describing itself as a matchmaker between corporations as well as domestic and international charities.
Its clients are corporations, K-12 school districts, health care groups, colleges and universities, and charities like Habitat for Humanity. The staff has managed more than 6,000 deliveries, keeping 60,000,000 pounds of furniture in circulation, says Dana Draper, COO of Furniture Reuse Solutions.
Its network of nonprofits and its work with donators helps solve what the Carlsbad, Calif.-based operation recognized as a problem that is deterring reuse.
"A lot of reuse folks send out a list of furniture to dozens of charities, which requires keeping tabs on large volumes of inventory; it can be overwhelming for businesses. For the charities, some have been promised certain furniture and not gotten what they were told to expect. They become reluctant to take more," Draper says.
So, staff go to clients' locations, take a physical inventory and photos, and inspect for quality, which has helped build trust.
Not all of its corporate clients donate. They have three options:
liquidation; recycling of metals and some other parts; and reuse, in this latter scenario furniture is donated.
Reuse has proven the most successful option.
"Liquidation markets in furniture are not good now. So, while companies would like to sell, maybe they can't. And with recycling, taking items apart is costly and does not generate enough revenue to offset labor costs," Draper says.
Cubicles especially are a problem. They have a lot more plastic than they used to, which is rarely recycled. There are millions of decommissioned cubicle panels out there now for that reason, especially as many companies are consolidating.
In addition to working with these corporations and nonprofits, Furniture Reuse Solutions partners with moving companies, firms that manage moves and consolidations, and furniture manufacturers.
The manufacturers and dealers are driving a large uptick in business lately. Draper says it's because companies want their old furniture to be hauled when they buy new, which few manufacturers were doing, with many only adding this service in the past four or five years.
Draper's company has found a large market of generators who see reuse as a good option socially, environmentally, and financially. It's cheaper than recycling or landfilling, and he points this out in hopes of discouraging liquidation.
"The motivation to resell goes against our grain because it's in conflict with donation. And donation is more important to us because of social impacts," Draper says.
Working in the company's favor is an industry shift toward reuse; it's motivated by economics and market demand. If a business can only sell chairs, one of the most wanted types of office furniture, it often has to pay to landfill remaining surplus. While charities want a mix, the chairs almost always have to be part of that mix.
"We are keeping everything together by convincing clients to go to reuse rather than liquidation when possible.  We make it attractive through logistics; one vendor shows up and takes everything when possible," Draper says.
---
Comments:
I found this article rather late in my research, but it has been extremely informative. I didn't know about companies like Fernish which rents out furniture. Also, the programs that are in companies like Herman Miller and nonprofits, I was unaware of.
I want to base my project on this Fernish company and how they bring back the furniture to get refurbished. Also the shift in society and how consumers look at furniture and their living spaces was very interesting.
https://www.waste360.com/waste/tackling-multi-million-ton-furniture-waste-problem