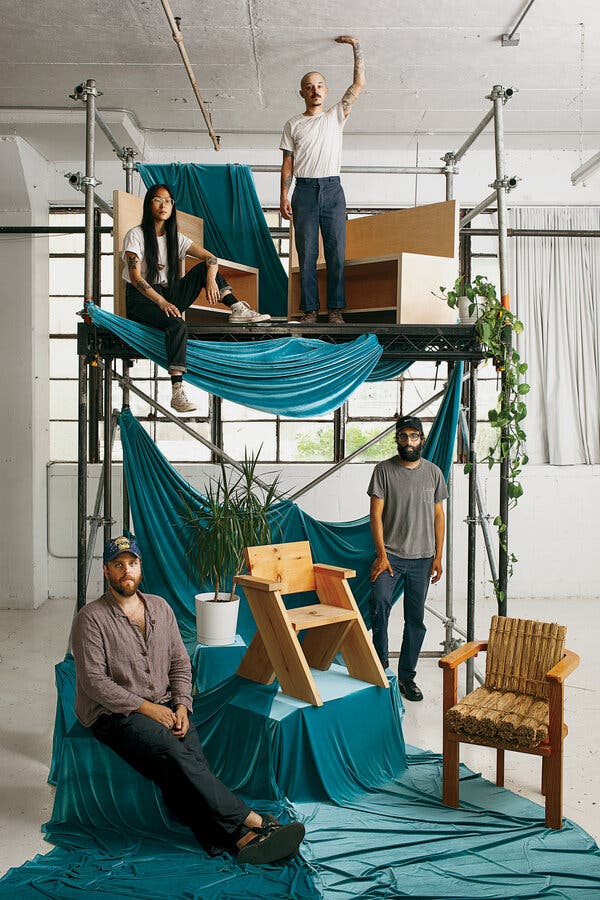 Author: Noor Brara
Date: Sept. 21, 2021
Publisher: NYTimes
In response to the colorful, zanier side of modern furniture, some American craftspeople are returning to elemental, straightforward, and handmade pieces
"IF A CHAIR or a building is not functional, if it appears to be only art, it is ridiculous," wrote the American artist and furniture maker Donald Judd in his 1993 essay "It's Hard to Find a Good Lamp." In the piece, he derides most commercially available furniture — too overstuffed, too bourgeois, too obsessed with the past — and explains why, in the early '70s, he felt compelled to design his own objects, first to fill his homes in Marfa, Texas, and Manhattan, and later to sell. According to Judd, while art is conceived to exist purely on its own terms, a chair is to be sat upon; its form should "never violate" that function.
Many of Judd's resulting pieces — clean, right-angled plywood beds, blocky chairs, rudimentary worktables and desks — were influenced by the handmade hardwood furniture of the Shakers, a sect of celibate Christians who came to America from England in the 1770s and made pieces for themselves and others that reflected their ascetic principles. In communities in upstate New York and Pennsylvania, they constructed objects from domestic, inexpensive pine that were at once light and sturdy, dependable but yielding, often featuring ladder slats, tapered legs and wooden pulls.Read More From T's Design & Luxury IssueAn Architect Who's Known for Aesthetic Purity and Counts Kanye West as a ClientSept. 20, 2021Fall Fashion With a Sense of AdventureSept. 21, 2021Architecture and Design That Makes the Case for DiscomfortSept. 20, 2021
Judd's homages to these works, which he considered the last of American styles to recognize the quiet dignity of a chair, inspired designers for decades. Now, though, there's a new crop of small domestic studios that are reconsidering what elemental wood furniture looks like. If the early part of the century was defined by the splashier, Instagram-baiting revivalist movements of the recent past — whether Kartell-inflected plastic, 1990s postmodernism or color-drunk Memphis tributes — these young creatives feel, as Judd did, that straightforward functionality should supplant the desire to conflate furniture with art. With stripped-down, uncomplicated objects assembled from locally sourced woods, they are creating pieces that speak less to a particular aesthetic, time or place than to the concept of honest craftsmanship espoused by their forebears.
TAKE, FOR INSTANCE, Marvell Lahens, the 30-year-old founder of the Oakland, Calif.-based Maison Ogé, which began in 2018 as a fashion line. Back then, he had one goal: to reinterpret the quintessential T-shirt by sliding its pocket to the center. "I'm no good at inventing," he says. "But I am good at distilling and making one subtle move that will hopefully change everything." In the last year, Lahens shifted to furniture, driven by a desire to work with his hands: Using oak and Baltic birch plywood, he produced objects that resembled some of Judd's earliest experiments — shelving and seating cut from seemingly raw planks of blond wood — before graduating to tubular stools and side tables. The only embellishment is the occasional circular cutout on the arm of a chair or the side of a shelf — a way to make the work "dazzle," Lahens says, without disrupting functionality.Sign Up for the T List Newsletter A weekly roundup of what the editors of T Magazine are noticing and coveting right now. Get it sent to your inbox.
For these makers, the decision to assemble objects by hand was as much about achieving autonomy as it was about reducing noise and clutter in their own lives. "This pared-back aesthetic allows for the individual [designer] to insert themselves maybe more than with something that's ornate or that's screaming a message," says Michaele Simmering, 43, of the Los Angeles-based Kalon, which she co-founded with her German husband, Johannes Pauwen, 44, in 2007. The couple had moved from Berlin to America two years earlier, and they established their practice after noticing that solid, clean wooden furniture was harder to find in the States than in Europe. Working with a small team of New England craftspeople to source timber from sustainably managed forests, they released a collection of hand-rubbed hardwood dining tables, cribs and standing bookshelves, alongside cushioned items like the Rugosa Daybed, a rudimentary platform assembled from three planks of sugar pine and named after a bohemian Rhode Island seaside summer house.
The desire to own furniture that's made for real life, that's meant to anchor us in unmooring times, is meaningful, these designers feel. It's what drove Kili Martinez and Lizzy Hoss of the Brooklyn-based LilBarnabis to make utilitarian rectangular desks and shelves from plywood in 2020, after losing their jobs. (Martinez, 29, was a woodworker for a fabrication company; Hoss, 31, a producer for a fashion brand.) Their pieces are inspired by Judd, the Japanese American architect and craftsman George Nakashima and Martinez's own mentor and former boss, Francis Lazarski, a cabinetmaker based at the Brooklyn Navy Yard. "Furniture should be simple," Martinez says. "Why complicate things more than they already are?"
Editors' Picks
In a Memoir, the Impeachment Witness Fiona Hill Recounts Her Journey From 'Blighted World' to White HouseWhat We Learned From Week 4 of the N.F.L. Season'It's Like Kismet': How a Long-Empty Building Found the Perfect TenantContinue reading the main story
That focus on livability also runs through Aaron Aujla and Ben Bloomstein's Manhattan-based Green River Project, which has risen in tandem with Aujla's wife, Emily Bode's, namesake clothing-and-design shop on the Lower East Side, where she displays her pieces on low stools and gallery-length benches. Aujla, 35, and Bloomstein, 33, met in 2010 while working as artists' studio assistants; in 2017, they began to produce their wooden furniture at the latter's family farm in Hillsdale, N.Y. "As two people with art backgrounds, we were taught since our school days to defend our theses," Aujla says. "It seems the design world is often missing that, which made us feel like we didn't fit in. Like, who is actually living in these spaces people pay attention to? That's the question we found ourselves asking." In recent months, the duo has decided to foreground practicality. "I've realized that working with humble materials like wood to create furniture is on the same level as these really staged, sterile-looking environments," Bloomstein adds. "It's just that you can picture yourself with it a little more easily."
And that's the point — that these pieces will be used and battered and repaired and perhaps passed down over generations. "We want to make work that feels good for you," says Emily Ewbank, 35, who in 2020, with her 41-year-old husband, Martin Sztyk, launched the Los Angeles-based Baenk, a tightly focused line of nine multipurpose plywood objects, from open bookcases to benches with button-like joinery. "And this just does."
---
Comments:
It is good to get other perspectives of what I am going to be doing to see what other people believe. I do enjoy simplicity but I think that a lot of people will enjoy being able to design their own furniture, at a fraction of the cost of other custom furniture pieces.
I agree to an extent that furniture should be simple, but I also think that they just aren't that good at making furniture so they say extremely simple pieces are the best (when in reality they just can't make it more complex). But that is of course only a theory.