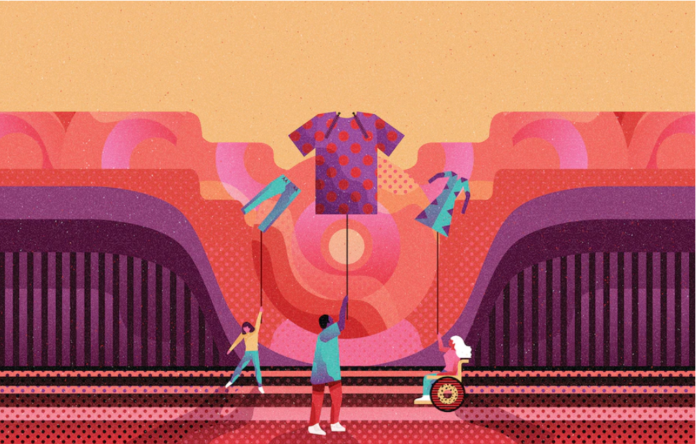 By Annie Groer
August 3, 2019
Published in the Washington Post
After years of seeing her granddaughter in jeans that were too long and too loose, Karen Bowersox searched hard for brands that would work for the girl and others with Down syndrome. None existed.
"There was nothing that fit them," said Bowersox, of suburban Cleveland. Convinced that "people with disabilities are a forgotten population in the world," Bowersox, an entrepreneur with "no clue" about the garment industry, spent four years creating Downs Designs pants, "shaped and sized" for children and adults with Down syndrome. All of the brand's pull-on jeans, khakis and black slacks have an elastic waist, belt loops, shorter proportioned legs and a mock fly to simplify dressing. The Downs line is part of her larger NBZ Apparel International, which stands for No Buttons/Zipperless.
Mindy Scheier, on the other hand, was a career fashion designer facing an urgent plea for jeans from her son Oliver, then 8, whose muscular dystrophy required leg braces. Only sweatpants would fit over the hardware and still enable him to use the bathroom by himself.
"I was horrified by what I saw out there," said Scheier, a mother of three in Livingston, N.J. "There was nothing fashionable, current or trendy for kids. Everything was for an aging population."
So she sliced up boys' denims from Target and sewed Velcro strips from the hem to just below the knee to accommodate his braces, and replaced the zipper with easier fasteners. Those desperation jeans marked the first time Oliver could put on pants that had a zipper or buttons and use the restroom on his own.
That was in 2013. Today, a growing number of clothing and footwear companies offer style, dignity, independence, even joy to younger, hipper consumers with disabilities, whether they dress themselves or get help from others.
"Adaptive design" it's called, regular clothing and shoes re-engineered for children and adults with physical, cognitive or sensory issues, both chronic and short-term.
Elastic, snaps, magnets, large buttons, zippers, drawstrings, and Velcro fasten everything from dress shirts and raincoats to swim trunks and pajamas. Spine-length back zippers on jumpsuits deter stripping by people with dementia or autism issues. Onesies have concealed openings for abdominal access. Dresses, shirts and hoodies have two angled front zippers for access to chest ports, catheters or PICC lines used for medicine infusions. Cozy fabrics, flat seams, tag-free labels and the lack of back pockets prevent sensory distress and skin injuries. Sneakers with zippers and fastener closings make shoes more manageable.
Adaptive design began some 40 years ago, mainly for seniors in long-term care facilities, not for young adults and children. Those early clothes and shoes, while hardly fashion forward, were a godsend for caregivers and their charges, many of whom had struggled with — or been embarrassed by — conventional apparel, especially last-resort sweatsuits.
Much of today's adaptive clothes and shoes skew younger than what was offered then, using fabrics and designs adapted from trendy conventional attire.
Longtime Canadian designer Izzy Camilleri — known for high-end, high-style furs, gowns and costumes worn by actors and rockers — made her first adaptive piece 15 years ago: a custom coat for Toronto Star journalist and disability activist Barbara Turnbull, who was paralyzed from the neck down at 18 during a shooting at a store. (She died at 50 in 2015).
"I'd never worked with someone in a wheelchair, with a disability. It was quite eye-opening and humbling," Camilleri said by phone from her Toronto showroom. Turnbull's capelike coat "needed to be shorter in the back, with pockets on the inside to keep her hands warm, and a long zipper pull in front that her service dog could operate. I just became much more compassionate, knowing what it takes [for people with disabilities] to get through their day."
Her IZ Adaptive collection offers wardrobe basics mostly in black, white, gray and khaki for women and men. Camilleri, like other adaptive designers, often creates two collections: one for people able to stand, which is how conventional apparel patterns are configured, and the other for people who sit, most often in wheelchairs, which means clothes must fit a body folded at angles at the hips and knees. "Seated" clothes are cut wider across the lap and thighs, with a modified waist that avoids pressure on the abdomen while providing coverage and comfort in the rear. Coats and blazers are cut shorter in the back to avoid bunched fabric that can irritate skin and internal organs.
Camilleri's clothes range in price from $29 tank tops to $259 coats and $425 for a man's suit with elastic in the back trouser waistbands "for a cleaner line in front. The seated jacket is cut to remain buttoned to maintain a polished look without pulling," Camilleri said.
"The general reaction when people hear about adaptive design is, 'Holy cow! How has this not happened before?' " said Scheier, who founded Runway of Dreams in 2014 to urge fashion leaders to embrace people with disabilities as consumers, creators and models. "It's no different than plus sizes, petites and maternity," Scheier said. "If you can find clothes for dogs, but not for people with disabilities, that is not right."
Tommy Adaptive, part of the Tommy Hilfiger brand, debuted in 2016, bringing the designer's signature sporty-preppy look to young people with disabilities. Scheier recalled demonstrating Oliver's made-in-the-kitchen jeans to Hilfiger executives while explaining the concept, and its importance, to them. Tommy Adaptive for adults followed in 2017.
Three years ago, Target introduced sensory-friendly kids' clothes as part of its Cat & Jack brand, which features soft fabrics without irritating tags or pockets. There are also choices for adults, and ongoing research and focus groups driven by consumer requests, said Julie Guggemos, Target's senior vice president of owned brand management and product design.
Zappos, the online shoe retailer, has an adaptive design Web page offering multiple clothing and footwear brands, including Hilfiger, Camilleri and Nike. The athletic shoe behemoth sells several versions of its FlyEase sneakers with heel zippers and Velcro, or hook-and-loop, fasteners for easier dressing for everyone.
"People make judgments about who you are within 30 seconds of meeting, so what you wear is important to your self-esteem," said Brenda Wilton of Greenville, S.C., creator of Authored Apparel for women and men, inspired by her dapper father, who was appalled by existing adaptive choices after a hospital stay.
Her go-to outfit, which hits mid-calf, is a $90 gray shift that she wears belted and hiked above the knees, often with stilettos. For those who cannot raise their arms overhead (including Wilton, who suffers from recurring upper body pain) or stand up, the dress can be pulled on from the ankles while seated.
It's stylish enough to be worn to the theater, a business lunch — or chemotherapy owing to dual zippers that angle downward from the neckline. An unintended bonus: the unzipped bodice works for nursing mothers. Wilton calls her clothing "normalized," not "adaptive," because she said the latter word can carry a stigma.
Semantics aside, clothes that fit properly "increase confidence and independence," said Alette Coble-Temple, a psychology professor at John F. Kennedy University in California and a disability rights-activist.
Although she wears conventional garb, the 2016 Ms. Wheelchair America winner said friends with disabilities are thrilled that newer adaptives "look hip, and they can get into them without having to contort their body."
For Carolyn Pioro, a circus aerialist who became a quadriplegic after a trapeze accident in 2005 while in her 20s, her custom Izzy Camilleri coat "was a game changer." Cut short in back, with capelike arms and a high collar, it's easy for others to help her with it.
"No one has to lean me forward in my chair or raise my arms or do any sort of 'Carolyn manipulation' in order to get it on or off. I'm comfortable asking my friends of either genders to help me on a night out, without the task being too overwhelming for any of us."
With spiky red hair and crimson lips, the fashionable Toronto freelance writer and fact-checker presents a powerful case for upping the style quotient of adaptive design.
"I've had [the coat] for years and I still love it," she said. So do strangers who stop by her wheelchair to admire it.
Her trapeze accident may have, at times, "taken my dignity,'' she said recently by phone, but it certainly "did not take my vanity."
Annie Groer is a Washington journalist, formerly with The Washington Post, who writes widely about design, culture and politics.
Source: https://www.washingtonpost.com/health/for-people-with-disabilities-finding-clothing-that-is-stylish-and-meets-their-needs-is-getting-easier/2019/08/02/1889990a-87cf-11e9-98c1-e945ae5db8fb_story.html
Summary: This is another example of how specific design is so important to people with disabilities. The needs of someone with a disability are sometimes different, but they still want their clothes to fit them, to look good, and to feel good. Adaptive clothing companies have many pieces and form ranges. Carolyn Pioro said her trapeze accident took her dignity but not her vanity. I want people who need at-home care to feel like they can have vanity, pride, privacy, or whatever human feeling they want while still receiving the care they need.