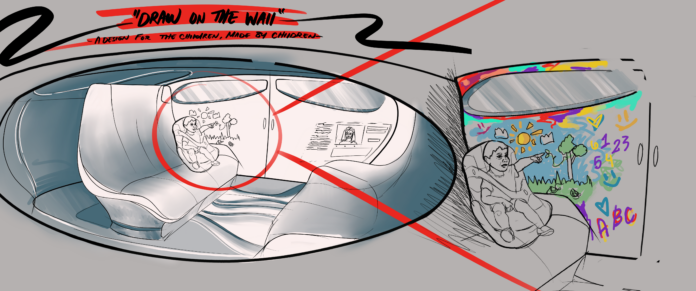 After doing my research on how the art community have been influencing the automobile industry in recent years, I found that most of the concepts are purely artistic and not practical by any means. However, there is still a great deal of knowledge that can be taken from these works of art, mostly being that it reflects the desires of human beings. We like beautiful things, there's something within us that compels us to be pulled towards beauty and bring and maintain it around us.
For the subject matter of cars however, the early cars were purely engineer created, it wasn't until later when Cadillac released some highly decorative styled cars around 1930 that the beginning of stylized cars too their place in the industry. This is a whole form of art of it its own. Designers and artists and worked together to create something that was not only functional but beautiful and would appease to buyers. Beauty is a luxury, art is a luxury and for cars, it comes when there is downtime and money. Most cars made today are created to fit a need; safety, transportation of people and goods, be accessible, durable, sustainable and efficient and still affordable. But as time has gone on these are all things we've practically perfected for every car, and now we are left for more adventures opportunities in how we view our cars.
This allows for that special luxury of art and creativity. We welcome the world of concept designers whose imagination knows no limits and opens designers up to a world of possibilities. While many of those possibilities can be shot down by engineers rather fast, it still challenges the end design.
While I was thinking about how to incorporate the idea of art into the future automobile and the overall passenger experience, I first was inspired by Syd Mead and wanted to do something that was rather bizarre and super artistic. However I found it hard to see how that would apply or help me later down the road of design, so I started thinking of more practical applications that were still super futuristic and fun and in the theme of "Art".
The idea was to give children the right to draw on the walls, the walls of the car. Possibly one of the most ingrained rules within all of us as children is to not mess with the walls, the furniture and definitely not the car, so in the theme of art, I encourage children to break the rules and be creative. How this would work is that in the future, the walls of the car would be screens of some sort, for practical and entertainment reasons. Watch movies, check weather, internet, navigation, play games, all the things you might desire… but what if, lets say Procreate the app could be introduced to that system. Then you can draw and design on the walls of your car. You could control the way they look to however far your imagination will take you. Children have some of the best imaginations, they have not yet learned limits, and truthfully most abstract artists are in the business of training themselves to think like children.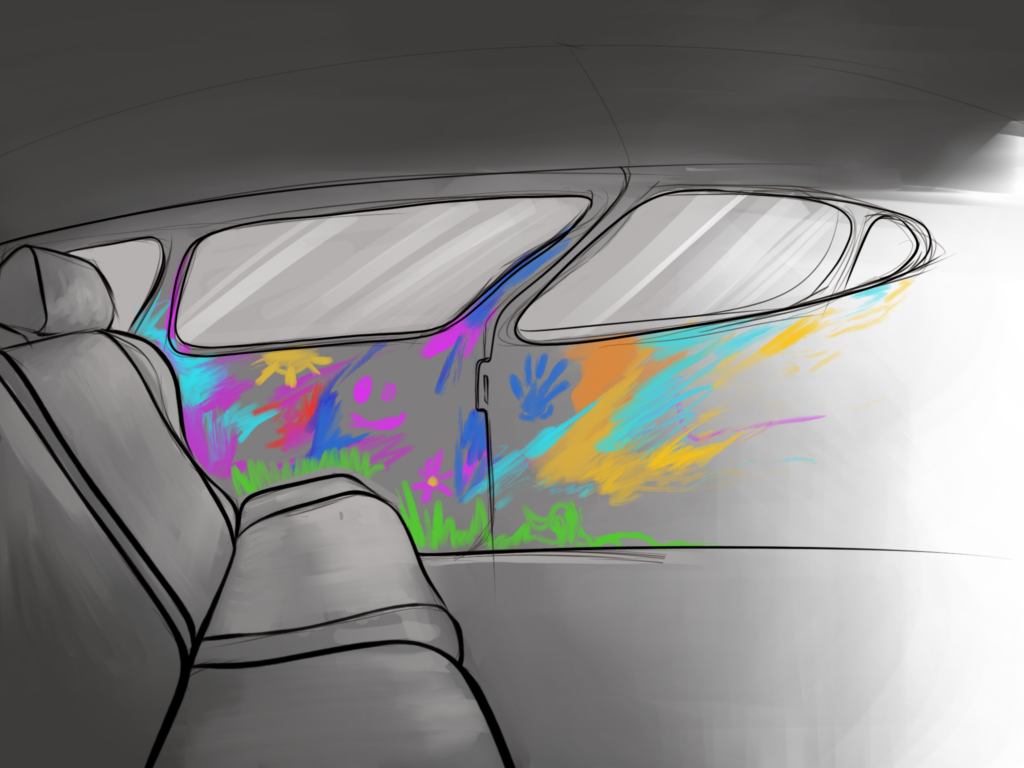 To allow children the ability to use the screen of the car to design their own surrounding invited creation and entertainment. Many parents know the struggles of keeping a child entertained while in the car and how rough that can become, and that handing them a tablet they will hold five inches from their faces isn't exactly the best option. Of course the drawings done by the kids wouldn't be permanent, the car can still maintain its sleek, clean design when the parents want it to look that way. At the same time they can also cave the art files for sentimental reasons.
This concept is an invitation for creativity and fun, to challenge one surroundings and rules. Its to create a more personalized space surrounded by the art made by the one you love most in the world, your child.