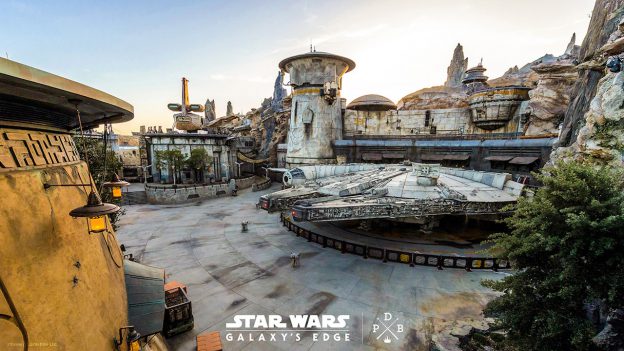 By: Gina Hall
Publisher: L.A. BIZ
Date: 2019
The Walt Disney Co. will sideline virtual reality (VR) at its theme parks in favor of real-world immersive experiences.
"We're not trying to fake immersion," Disney (NYSE: DIS) CEO Robert Iger said at the MoffettNathanson Media & Communications Summit in New York on Tuesday, per the Los Angeles Times. "We're trying to make it as real as possible with as much scale as possible."
"There's a wow factor there that that is much greater than what you could ever achieve with VR," Iger said while discussing expansions such as Star Wars land, Cars Land and Pandora – The World of Avatar at Orlando's Animal Kingdom.
He also noted that it would be challenging to order a beverage at the Star Wars bar with VR goggles.
Iger recently posted pictures from inside the highly-anticipated Star Wars land coming to Disneyland California on May 31 and to Disney's Hollywood Studios in Orlando on Aug. 29.
The pictures appear to have been taken during a private tour of the land with Star Wars: Episode VII and Episode IX Director J.J. Abrams, Lucasfilm President Kathleen Kennedy, legendary director Steven Spielberg and Galaxy's Edge's Imagineer Scott Trowbridge.
Anticipating increased crowds with the upcoming Star Wars land opening, Disneyland is banning smoking and wide strollers. The move, which takes effect May 1, is part of a series of policy changes the Anaheim, California-based theme park has taken ahead of an onslaught of visitors expected for the new Star Wars: Galaxy's Edge attraction opening May 31.
The first three weeks after the opening of Star Wars: Galaxy's Edge will be reservation only. Visitors who plan to go there between May 31 and June 23 will need a Disneyland ticket and a free advance reservation to access the attraction.
Source: https://www.bizjournals.com/losangeles/news/2019/05/15/disney-parks-will-favor-immersive-experiences.html
Comment: The primary point of discussion in this article is about Disney maintaining its commitment to staying away from virtual reality immersion. Robert Iger, Disney CEO notes that it would be hard to order a beverage at a Star Wars bar in Galaxy's edge. I think this article is important, because it serves as a reminder to even young designers that we shouldn't be focusing on novel technology just because it is novel and it can actually detract from what we are really capable of. A virtual environment will never truly be able to capture the imagination of users and today still doesn't feel authentic. At some point deep virtual reality systems may be able to achieve this, but for the time being, we are limited. Instead utilizing technologies such as AM methods to create real and tangible things is a far better solution to produce convincing experiences. This allows users to touch and interact things with their own hands rather than just their avatar's