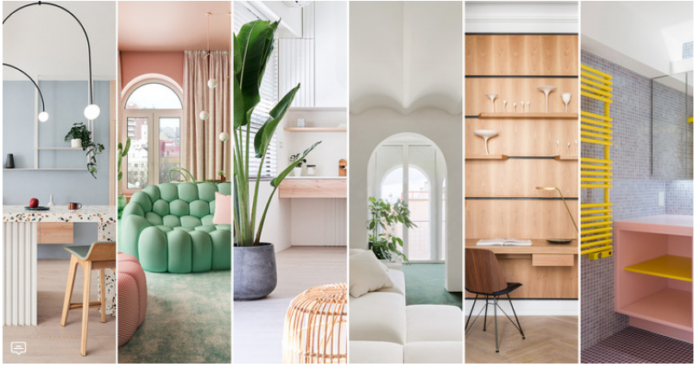 As interior design increasingly becomes a subject of interest among architects and designers, we reviewed the projects that have been published on ArchDaily during the last year in the Residential Architecture, Interior Design and Refurbishment categories, to see if there were some design decisions and solutions that were generating trends. We found a few that could be useful in making some predictions on how interiors will be developed in the next decade.
1. Biophilic Design
Indoor plants have become a completely new layer in interior design projects and large, oversized plants are a growing trend. In the last year though, a new concept has entered the mainstream conversation: Biophilic Design. In order to maintain a certain level of connection with nature, Biophilic Design aims to integrate nature into building architecture as a way to improve our health, psyche and overall ecosystem. The use of reclaimed wood, hanging plants, green walls and large green installations are some of the main trends that we are seeing and that will shape interior design in the next decade.
2. Natural Fiber Furniture
The use of natural fibers such as rattan and wicker in furniture is becoming very popular in interior design. This traditional material is being used in chairs, carpets and lighting, mixed and matched with more modern design.
3. "Chubby" Design
Chairs, coffee tables, couches and even lamps are showing their best voluminous curves taking us back to childhood by giving our spaces a young, fun and modern look. This new trend is led by furniture with rounded edges and tubular forms, and also known as neotenic design, from the concept "neoteny"—the exaggeration of childlike features. An appropriate concept to describe the playfulness these pieces can add to any space!
4. Arches
Archways are typical of traditional architecture and are now having a revival thanks to architects and designers adding curved doorways, rounded windows and arched mirrors to their interior design projects. Aligned with the "Chubby" and Biophilic Design trends, arches appear as a new way to add curves and more organic shapes inside our homes, not only through actual archways but also through decorative patterns painted on walls.
5. Mini Study Nooks
Flexibility at home is more important than ever now that working from home has become more common. In this context, working areas become less formal and can coexist with other living areas. This has led to the appearance of mini study nooks that are integrated into larger furniture pieces, such as hidden within closets or added to bookshelves.
6. Wood and Concrete in Their Purest State
Exposing wood and concrete as raw materials on walls, ceilings and floors is a trend architects and designers are using to achieve warmth and elegance for interior spaces without falling into expensive budgets. The combination of both is capable of engaging all senses beyond the visual and have attractive qualities such as durability and low maintenance.
Analysis
Even though our co-working space is going to be designed for the outdoors, understanding current indoor trends is a great way to consider modern elements. Being able to create a space that embraces the outdoor environment, while also making it feel "homey" and inviting is extremely important. I wanted to choose an interior design article for the arts section because I feel like this style of design is most definitely an art that is expressive of the space that it's in. I think the trend of using arches is really interesting since one of the architectural features of the Wright Dunbar neighborhood was an iron arch between two buildings. Also mentioning biophilic design is important after reading another article about how connecting with nature is really important for our well being. I think considering the study nooks and "chubby furniture" are other great stylistic decisions that I would have overlooked, if I hadn't dissected the trends.