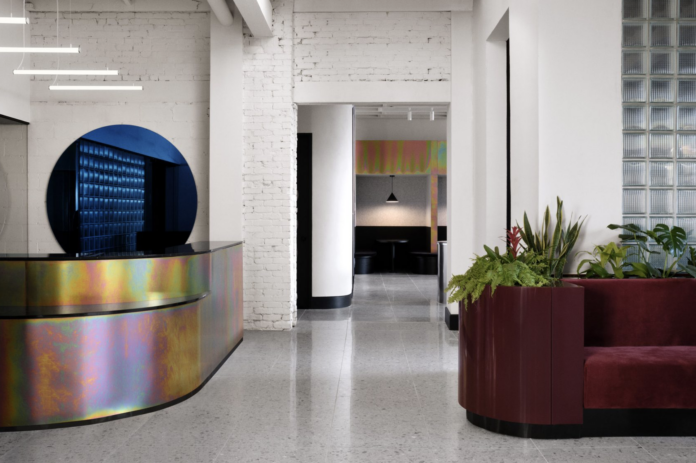 Mint green and burgundy are among the hues incorporated into a Montreal co-working space that Canadian firm Ivy Studio designed to "stand out from its competitors."
The office is located on the second floor of a 743-square-metre building in Verdun, one of city's trendiest neighbourhoods. The space formerly housed a Jiu Jitsu gym and a beauty salon.
This is the first location for the new co-working brand Spacial. Local practice Ivy Studio was charged with designing a flexible work environment for up to 120 people.
"Being the first of its brand, this space had to stand out from its competitors by offering a unique vision for co-working," the team said.
Throughout the space, contemporary finishes and decor are paired with original building elements, such as exposed ceiling joists and brick surfaces.
In many areas, the team coated the walls with an off-white plaster and covered the floors with light-grey terrazzo. Much of the furniture is black, although dashes of colour are sprinkled throughout.
The kitchen features curved cabinetry with a glossy mint-green finish, and a backsplash and island covered with Rosso Levanto marble. The base of the island is made of stainless steel, which mimics the chrome planters found throughout the office.
Situated near the kitchen are the bathrooms, which have black ceramic tiles and matching plumbing fixtures.
To ensure the private area felt bright and welcoming, the team installed 20 skylights above the corridors.
"With the exposed brick walls, sandstone floor tiles and abundance of natural light pouring into the hallways, the general feeling resembles that of working in an exterior courtyard," the team said.
Analysis
The company that put this pop of color in their in their office really wanted to make their indoor co working office a more welcoming, warmer place for people to work. One part of the article talks about is how they used skylights to make the indoor area feel more like an outdoor courtyard. Because our location is already outdoors, this specific example could be shifted to make the outdoor feel more like an indoor location. This wouldn't be beneficial for our project because the goal is to make an outdoor coworking space, but maybe manipulating these techniques could change the environment of the working space.
https://www.dezeen.com/2021/05/23/spacial-co-working-office-montreal-ivy-studio/