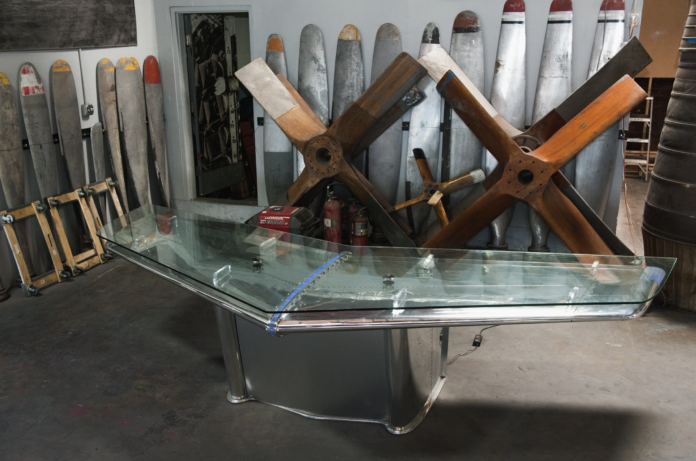 Dave W. Hall got hooked by the allure of flying machines after a family friend took him up in a little Cessna 172 for his first flight when he was about 8. "I had a lot of model toy airplanes," said Mr. Hall, who grew up in the 1970s on a small farm in Ohio. "What little boy doesn't hold out his arms and pretend he's flying?"
Today he is co-founder and owner of MotoArt Studios, a Torrance, Calif., business that sands, polishes, paints and redesigns retired airplane parts that began with an old propeller destined for the junkyard that was turned into a free-standing sculpture.
"We can't get rid of this," Mr. Hall recalled his then-partner saying at the time. "A light bulb went off," Mr. Hall said. "We can preserve aviation history."
The average life span of a commercial jet is about 25 years, and something like 12,000 of them and other aircraft are expected to reach the end of life in the next two decades. That's an average of about 600 airplanes each year, according to the Aircraft Fleet Recycling Association. What happens to all those planes when they are no longer economically viable and ready to come out of service?
At MotoArt, fuselages become conference tables. Cowlings, the metal coverings of an engine, are made into beds. Wings are turned into dramatic, one-of-a-kind corporate executive desks. Windows are transformed into mirrors. "We've been creating beautiful pieces of functional aviation art from recycled aircraft for over 18 years now," Mr. Hall said. "Each piece tells a story."
Typically, when a plane reaches the end of its life, the airline or owner may keep some parts for reuse internally in its fleet or sell the plane. Some aircraft may be converted into cargo planes. Remaining inventory is often sold to aviation parts traders or consignment vendors who remove, sell, recycle, and dispose of parts, industry experts say. Components (everything from cockpit instrumentation and the outer shell of the plane known as skin, to seats and food service equipment) in good condition can be used to equip other planes or are recycled or upcycled into things like beverages cans, clothing, and home and office furnishings.
Analysis
One of my classmates encourage out group to investigate airplane wings made into tables, which I am glad I did! After doing a little more research, I found that there are companies that take parts of planes that are out of commission and turn them into beautiful household items.
I don't know of any companies that are taking parts of the first airplanes and turning them into furniture, but the idea can be investigated further. We don't necessarily need to make a desk or chair from the original fabrics, but maybe similar ones as a nod to the art and history.
https://www.nytimes.com/2018/07/16/business/airplane-parts-recycling-furniture.html