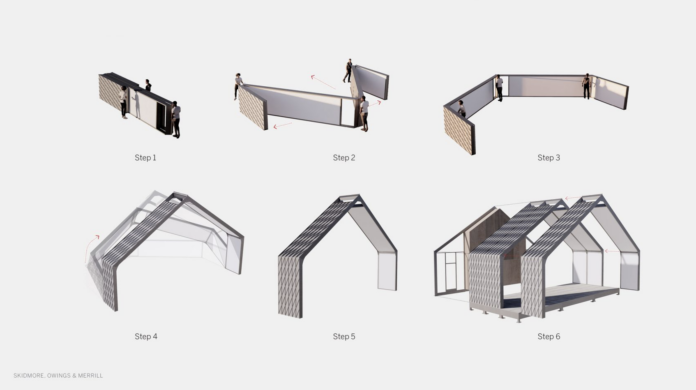 American architecture studio SOM has created a design for a ventilated, high-ceilinged, modular classroom for schools that need temporary accommodation.
Named School/House, the pop-up classrooms were designed in response to the current coronavirus pandemic but are intended to provide a more healthy alternative to current options available for schools in need of additional classroom space.
"We designed School/House to address two key issues: an urgent need for temporary additional educational space as a response to the current pandemic, and to improve upon existing options for temporary classrooms, creating a temporary space that is truly intended for teaching and learning," said Jon Cicconi, an associate director at SOM.
The modular classrooms are designed to be healthy indoor learning spaces for 25 students positioned 1.8 metres (six feet) away from each other, or up to 50 students in a regular configuration.
They would have pitched roofs creating classrooms with six-metre-high ceilings, while a raised floor would contain power sockets and ventilation to remove air from around each desk. The whole interior would be clad in easily sanitised finishes.
"The higher ceiling heights enhance air circulation," he continued. "Access to natural light and views offer a more human space for students and teachers. The footprint has been sized to accommodate a full class of 25 students at a six-foot distance for the pandemic."
The walls and roof of each School/House would be assembled from seven folded modular panels, each featuring an aluminium frame filled with fibreglass reinforced panels (FRP). The floors would be a standard raised aluminium grid filled with vinyl composition tile (VCT) panels.
Analysis
I think that this modular pop-up school is a really interesting way to make a covid contaminated world safer and keeps people educated in the process. Some people have found that they work better from home than from the office, but others just want a change of scene from the home office as well. This pop-up could be changed and manipulated to make it a more permanent location but still modular. It could be manipulated to help multiple people together, or just one person wanting to work alone.
https://www.dezeen.com/2020/09/23/som-modular-classroom-school-house-coronavirus/