Built like Frankenstein, using organs from a sacrificial donor auto, custom portal axles, 16-inch lifts that elevate the roofline to Manute Bol height, tires so pneumatic that custom bumpers and fenders were machined to give them clearance, a roof rack resembling the launchpad for a drone fleet and two-toned honeybee-colored interiors as detailed as a Dutch still life. The base sticker price on this particular vehicle runs around $135,000. But that would be before the fashion designer Kerby Jean-Raymond, the creative director of his own successful New York label, Pyer Moss, and of Reebok, began to collaborate on customizing it with the help of the Abushi brothers. The four Palestinian American siblings who, in an industrial section of Queens, operate a luxury and exotic automotive facility.
Here, on any given day, one would likely encounter there some of the world's rarest, most costly and covetable rolling stock, that writer Michael Thomas once called "the new tycoonery." Decorated in an allover honeycomb grid, the car was also ornamented with crime tape reading "Crime Pays." A capering figure silhouetted on the door depicted Rich Uncle Pennybags, the Monopoly Man. There, too, in the showroom's arctic cool stood a passel of tricked out G-Wagons; a Lamborghini SVJ 63 roadster, of which only 63 were ever manufactured; and a Ferrari 375 GTB NART Spider, which is a convertible and has a market value of roughly $25 million.
And also, Mercedes-Benz 190 E purchased secondhand at auction for $500. "I was always into super-cars but never able to afford them." says one of the Abusi brothers. Eventually, when success came, income rose to meet expectations, and he now possesses a garage full of Ferraris, McLarens and other exotic sports cars — soon to be joined by the G-Wagon whose ultimate value, he estimated, should surpass $800,000.
Excess inevitably springs to mind on a visit to the Abushi shop, a place that illustrates, as well as anything can, what those from the smallest percentile of wealth, in a country increasingly defined by its lack, do with money that's often so new it is not just wet but crypto. Even at the depths of a global pandemic, retail sales of automotive specialty products rose stratospherically in 2020, climbing to an all-time high of nearly $48 billion, according to a report released in July by the Specialty Equipment Market Association. That figure nearly doubles the amount Americans spent in the so-called aftermarket as recently as a decade ago. Much of that spending was driven by consumers under 40 and a newfound fixation among them on the type of retail "exclusivity" epitomized by Supreme "drops" and hyped-up limited-edition bags from multinational Goliaths like Louis Vuitton.
If, as Della Domingo, a spokeswoman for SEMA, said recently, the aftermarket trade constitutes the "auto industry's version of fashion," shops like the one in Queens run by the Abushi brothers are the equivalent of haute couture salons.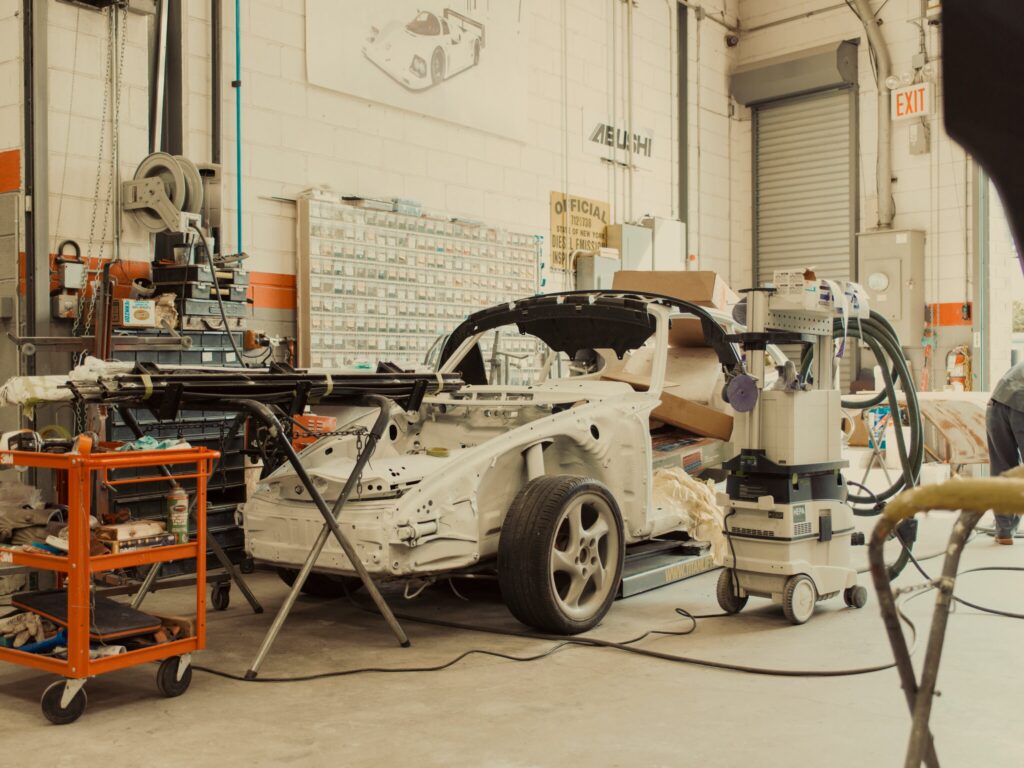 Though raised in a tightknit first-generation clan by parents whose lives were often defined by displacement and financial reversal, they became rich in their own right following the sale, in 2014, to a venture capital group of a chain of 100 Verizon franchises built across the western United States in barely 10 years. Though declining to disclose the precise amount of the deal, they ballparked it at $50 million.
It is the texture of longing that gives meaning to the fantasies at the heart of car collecting, the rapper Saint Jhn explained last week from a recording studio in Los Angeles, where he was preparing to embark on a 27-city tour. Even in an autopilot, ride-share world, few relationships with material possessions remain as emotionally freighted as that with our cars. "My dream had always been an Aston Martin — I was a big James Bond fan," said the rapper, whose given name is Carlos St. John Phillips. "I had to learn the difference between the dream and the reality of your dreams."
ANALYSIS
This article is about the car customizing businesses, specifically the Abushi brothers who run their own successful business in queens where they flip old and new cars alike and go on sell them for outrageous amounts of money. I picked this article for a couple of reasons, for one it reflects the desire that people have to make their cars their own and the lengths, and prices, they will go to achieve it. While the cars mentioned in the articles are far from the average consumers price range, it still proves a point; people desire customization. Now imagine if your average affordable Honda allowed you to change your interior lighting features at the touch of a button and no cost. Suddenly the average consumer has the ability to customize their vehicle to some degree too. Another reason I chose this article was because of idea that customization might come from the deep inherent love that American's have for their cars. The more time, money and personalization put into something, the more likely the user is to love and appreciate the product, which if achieved, would benefit the producer too.