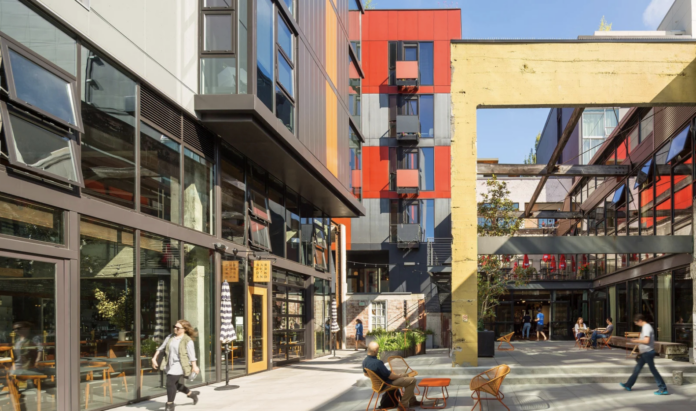 Chophouse Row is the last piece of developer Liz Dunn's 15-year master plan to encourage small-scale "incremental urbanism" in Seattle's Pike/Pine neighborhood. It features a mix of new and old: retail, restaurant, offices, and housing, all in the same building as well as the greater block.
The design knits together an entire block of disparate buildings via new pedestrian corridors and connections between old and new space to create a truly mixed-use project. Challenges for the project included resolving an 11-foot change in elevation between the east and west boundaries of the site, interweaving old and new structures, and stacking multiple mixed uses.
Gathering spaces and connections to other buildings on the block are born by strategically removing parts of existing buildings, leaving an open framework of remnant structural elements as spatial organizers. For example, carved out of an old auto parts warehouse, a narrow retail-lined passageway known as "the Mews" leads from the street into a mid-block courtyard. The courtyard, also carved out of existing buildings, serves as an event/market space with access to six neighboring buildings at multiple levels.
The project is highly energy-efficient, wrapped in a continuous exterior mineral wool "blanket", with high U-value operable fiberglass windows containing low-e coatings tuned according to façade orientation. Heating is provided by a hot-water radiator system, selected by the client to allow future connection to a planned district energy grid, which will allow neighborhood buildings to transfer excess heat from one to another rather than wasting it.
Analysis
The idea of having a village inside a village is a really interesting idea. It offers spaces for people to come and work; there are restaurants and shops around. It is truly important that we upgrade the safety and performance of buildings. This can be beneficial for the environmental impact on resources and can preserve the history and culture of a community. This will lead to further investment in the neighborhood. I believe that I can utilize this kind of design in the NAHA land.