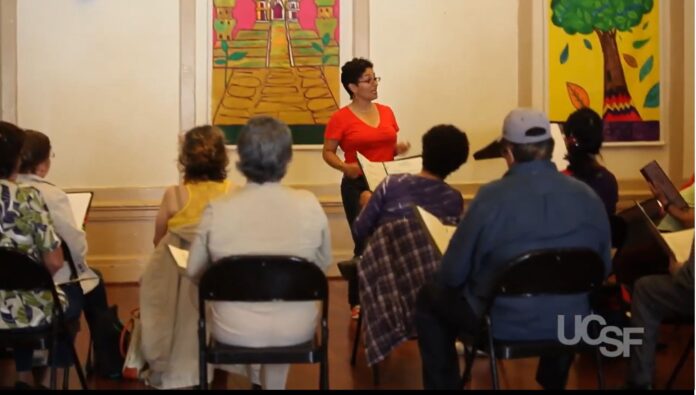 Singing in a community choir may be a unique approach to promote the health of diverse older adults by helping them remain active and engaged. It may even reduce health disparities.
Dr. Johnson tested this approach, leading Community of Voices, the largest randomized clinical trial to test the impact of participating in a community choir on the health and well-being of nearly 400 culturally diverse adults, age 60 and older, from 12 senior centers in San Francisco. The centers were randomly chosen to conduct the choir program immediately (six intervention groups) or 6 months later (six control groups). Outcome measures were collected at baseline (prior to starting the intervention), 6 months (end of randomization phase), and 12 months (1 year after enrollment). Each choir met once a week in 90-minute sessions for 44 weeks and performed in several informal concerts.
Researchers assessed participants' cognition, physical function, and psychosocial function, as well as their use and cost of healthcare services before they started the choir program and again after 6 and 12 months. Participating in the community choir showed positive results within 6 months. In particular, it reduced feelings of loneliness and increased interest in life. However, cognitive and physical outcomes and healthcare costs did not change significantly.
Northwestern University is looking for another art form, theater improvisation, to help older adults with early-stage dementia be social and improve their quality of life. As part of the 8-week program, groups of 10 to 15 participants, age 50 to 90, attend 90-minute sessions that are purposely repetitive and follow a specific pattern. Two facilitators—a clinical social worker and a master teaching artist in theater and improvisational techniques—guide participants through various activities.
Preliminary results show participation in the Memory Ensemble improves mood, decreases anxiety, and increases a sense of belonging, normalcy, and destigmatization said Dr. Dunford. Participants also report feelings of achievement, empowerment, and self-discovery.
ANALYSIS:
Dr. Johnson's and Northwestern University's research proves the positive impact of having various art forms for aging adults. There is a need for creative opportunities/outlets for aging adults. Providing creative weekly social events that were accessible and community-driven would help break the issue of social isolation would give aging adults something to look forward to.
"Participating in the Arts Creates Paths to Healthy Aging." National Institute on Aging, U.S. Department of Health and Human Services, www.nia.nih.gov/news/participating-arts-creates-paths-healthy-aging.