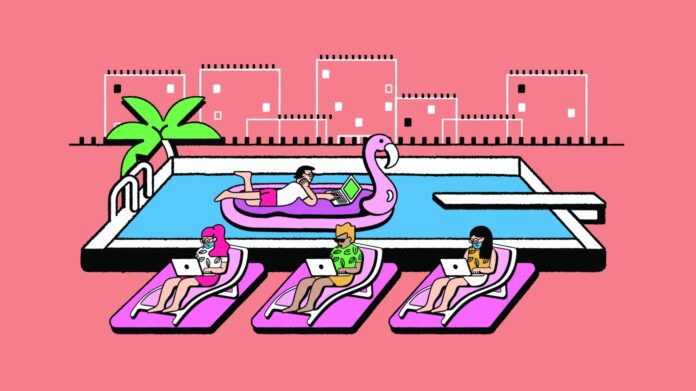 With the pandemic ebbing and the return to the office now underway, companies continue to promote the great outdoors — if a glam, WiFi-enabled one — as a must-have feature of the post-COVID workplace, one that's got employees' feelings around safety, comfort, and creative inspiration top of mind.
At its massive new mixed-use development on Manhattan's westside, the global real estate giant Related Companies has teamed with the coworking firm Industrious on a project called Yard Work at Hudson Yards, a 7-acre outdoor meeting and workspace providing custom accommodations for up to 28 people. Features include swing set-style seating and sound-buffered work pods that seat four apiece. The area is also equipped with high-speed internet, tech-charging stations, free access to The New York Times, food delivery and an onsite attendant. And yes, reservations are required.
"Public spaces inspire people every day, and inspire them to do their best work," Visser said. "People have been locked up during COVID and are starved for human interaction. This is literally a breath of fresh air."
The outdoor workspace is "definitely here to stay," added Ebbie Wisecarver, WeWork's global head of design. "Working outside can increase productivity and happiness, [while] providing access to outdoor spaces is an excellent way for employers to create a more flexible, welcoming environment for their employees when they return to the office," she said. More than 200 WeWork locations around the world — including those in Paris, Austin and Monterrey, Mexico — feature outdoor accommodations.
"We spend at least one-third of our lives working," he said. "Your office can be so much more than just a container for your work routines — and it should be, considering the investment most companies make in it."
Analysis
As the pandemic starts to decline and work starts to resume back in the offices, many companies are trying to push their employees to enjoy the outdoors. But some places that workers may find appealing, may not have their needs. There is a project in the works in Manhattan's westside where a outdoor working space is being offered to all, or at least all that reserve a spot. The outdoor space includes a variety of swinging chairs and sound buffering "pods" as well as the necessities like Wi-Fi, food delivery, and tech-charging stations. This article and others speaking on the same subject is very helpful for the project because it has already started working with outdoor spaces and the interactions between people. These spaces have so many things that are needed, like Wi-Fi for the bare minimum, so people can actually do work while they are outside. There are also a lot of outside things to factor that will change from location to location. Everything from minimizing the sounds of the city to the image and mood the company wishes to convey to the design of seating and lighting.