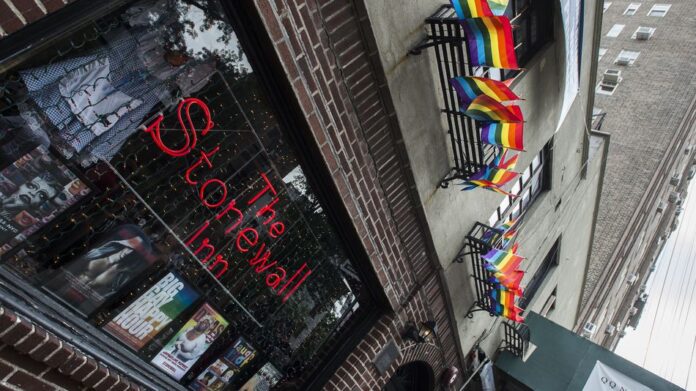 By: Heather Dockray
Date: March 12, 2019
Publisher: Mashable
Open up a travel guide and you're likely to see multiple passages about where to find the local "gayborhood," a neighborhood disproportionately populated by LGBTQ people. In San Francisco, there's the Castro. In Chicago, you have Boystown. And in Mexico City, there's Zona Rosa.
Walk through any of these neighborhoods, and you'll discover blocks of rainbow flags and queer clubs pulsing with extremely corny but good '90s house music. Yet for over a decade, critics have been lamenting the alleged "death" and "demise" of these gayborhoods, accusing them of being "passé" or surrendering to gentrification.
"There goes the gayborhood," The New York Times proclaimed in one 2017 headline.
But Amin Ghaziani, assistant professor of sociology at the University of British Columbia, isn't exactly grieving. In his recently published piece, "Cultural Archipelagos: New Directions in the Study of Sexuality and Space," Ghaziani analyzes new research to make a bold hypothesis: The gayborhood hasn't died, and it isn't being diluted out of existence. Instead, gayborhoods are multiplying and diversifying.
Gayborhoods, Ghaziani argues, aren't singular sites but have instead become cultural archipelagos: a series of queer islands, connected by sexuality and gender. And cities will often have more than one of them.
What's a gayborhood, anyway?
If you're queer and live in an urban area, chances are decent that you've at least travelled to a "gayborhood" — maybe to stand among a crowd of sweaty bears in thongs during a pride parade or to puke your guts out outside the local queer karaoke bar.
Ghaziani defines as gayborhood as having four defining features: It's a geographical center of LGBTQ people (including queer tourists), it has a high density of LGBTQ residents, it's a commercial center of businesses catering to the queer and trans community, and it's a cultural concentration of power. It's the neighborhood where you'll see pride parades begin, dyke marches take off, and street parties go into the night.
Want to buy an anal plug from a queer-affirming sex shop? Go to the gayborhood. Need advice from a trans-friendly psychic? The gayborhood awaits. Looking for support as you get prepare to come out to your family? Attend a group therapy session held at your local LGBT center in … the gayborhood, of course.
"The gayborhood is home to large amounts of organizations, businesses, and nonprofits that cater to the LGBTQ individuals," Ghaziani told Mashable in a phone interview. "Not everyone who lives in a gayborhood self-identifies as LGBTQ, though a statistically sizable portion does."
Gayborhoods formed as gay culture itself emerged in the postwar period and began to flourish: think New York City's West Village in the Stonewall era or San Francisco's Castro District in the 1950s. These were radical communities, home to intergenerational bath houses, butch femme bars, and sites of protest.
In the early 2000s, critics began to lament the supposed loss of these neighborhoods, citing "late-stage gentrification, the global circulation of capital, changes in the flow of migration, liberalizing attitudes toward homosexuality, social acceptance and assimilation, and the normalization of geo-coded mobile apps (which have altered how places facilitate social and sexual connections)," Ghaziani writes.
The critics weren't entirely wrong. Many traditional gayborhoods have indeed gentrified, and queer people have dispersed to other neighborhoods. But even as they've changed, gayborhoods have yet to disappear. Actually, they continue to bloom — you just won't see them if you're looking in the same singular places. That's partly because it's a "misconception" that "cities have only one gayborhood," Ghaziani told Mashable.
Historically, some cities have had more than one gayborhood, but not all of them have made it to the map. And even as queer people disperse from recognized gayborhoods, they cluster and form new gayborhoods in areas not traditionally mapped as queer.
"Gayborhoods continue to bloom— you just won't see them if you're looking in the same singular places."
The country has emerging queer neighborhoods that act "as cultural archipelagoes. The imagery of an archipelago suggests a chain or a cluster of islands. That's a more apt way of thinking about sexuality in a city," Ghaziani says. "LGBTQ Americans are diverse people. Why wouldn't they express that diversity in the places they call home?"
There are more gayborhoods than you'll ever find in a travel guide.
The Gayborpelago
Ghaziani cites multiple pieces of research to back his claim that gayborhoods function more like archipelagoes than they do singular sites within a city.
First, he uses US Census data to examine the geographic distribution of lesbians, noting that census data only captures information from same-sex couples, not individuals.
What the data reveals is clear: Lesbian couples do exhibit geographical clustering behavior. They just appear to be less visible because they often exist outside traditional gayborhoods in less urban areas. Same-sex lesbian couples reside in both traditional gayborhoods like Provincetown — where they make up 5.1 percent of all households — as well as outside of them, in areas not traditionally recognized as gayborhoods.
While gay men make up 14.2 percent of all households in the Castro, the well-known San Francisco gayborhood, for example, lesbian couples make up 3.3 percent of all residents in Northampton, Massachusetts. Yet in the popular imagination, San Francisco, not Northampton, is the epicenter of queer culture.
In Wellfleet, Massachusetts 2.2 percent of all households are same-sex households led by women, making it the 7th most concentrated lesbian area in the country. But Wellfleet is a town of 3,171 people — not exactly a standard gayborhood you could identify on a map.
Ghaziani attributes this unique clustering to multiple factors: Lesbians may feel more accepted in rural areas, where female masculinity isn't as tightly policed as male femininity; lesbians have less capital than gay men (women, including queer women, continue to make less than men) and therefore may not be able to afford urban neighborhoods; lesbians are statistically more likely to have children (and therefore different housing requirements).
"Only 12 percent of LGBTQ Americans aged 18 and above currently live in a gayborhood," Ghaziani says. "We're limiting our understanding if we focus on singular parts of the city."
Like lesbians, queer people of color often reside outside popularly known gayborhoods. Black same-sex couples, for example, are more likely to live in areas where other black people concentrate than where other specifically LGBTQ people live. Cases in point: Same-sex black couples are disproportionately concentrated in Baltimore City, Maryland (where they make up 4.15 percent per 1,000 households), and Lee County, South Carolina (where that number stands at 3.69 percent).
Lee County, South Carolina, isn't exactly a well-known gayborhood. Parts of that county nonetheless exhibit a key element of the gayborhood: residential concentration.
"Zip codes associated with traditional gayborhoods are largely white," Ghaziani writes. "The assumption of spatial singularity is epistemologically harmful because it ignores the 'spatial capital' and creative placemaking efforts of queer people of color. This includes youth of color, many of whom respond to the racial exclusions of the gayborhood by building separate communities."
By focusing solely on historically celebrated gayborhoods, sociologists run the risk of ignoring both old and new gayborhoods of color.
Meanwhile, trans people are often excluded from conversations about the gayborhood entirely. Disproportionately low-income, they often lack the capital needed to live in traditional gayborhoods. They report discrimination from both straight people and cis gays in gayborhoods. Even then, trans people can form their own cultural islands simply by sharing residential space together — an apartment, a building, wherever it may be.
The existence of other gayborhoods out there also provides a source of comfort. Ghaziani cites a recent study that found that "if you know your city has a gayborhood and you self-identify as trans, you're more likely to think your city is safer for trans people — even if you don't necessarily feel all that safe in the gayborhood."
When the gayborhoods of queer people of color, women, and trans folks are included, the gayborhood no longer looks passé. It looks vibrant. It's more diffuse than traditionally conceptualized.
Throw in digital queer neighborhoods, and the number of islands on the LGBTQ archipelago multiplies.
The Digital Queerborhood
Critics have long blamed the rise of digital queer culture for the supposed demise of the gayborhood. Because many queer people have access to mobile technology and no longer need to find one another in bars, the argument goes, the need for gayborhoods diminishes.
The thesis isn't without merit: New York, once an oasis of lesbian bars, now only has three. Los Angeles has zero lesbian bars. San Francisco, also zero. Seriously.
But instead of looking at digital culture from a deficit-based perspective, consider reframing: Digital gayborhoods continue to thrive. Between Grindr and Scruff and Her, there are now dozens of location-based dating apps that bring people in neighboring zip codes together. Unlike historical gayborhoods, which tend to be white, digital gayborhoods are often more open to diversity, giving room for trans and POC queers to connect.
If users are connecting in a neighborhood without traditional gay establishments, they can nonetheless create a "gayborhood" online or create "pop-up" physical gayborhoods. Using Facebook's events planner, they can plan a trans-centered party at a local straight bar or hold a LGBTQ health fair at a nearby field, thereby temporarily transforming these spaces into "gayborhood" spaces.
Here's how Ghaziani describes it:
"You can queer any given space by logging on to see see any queers near you. It undermines the [traditional] gayborhood as the sole locus … Many more areas of the city can now function as queer spaces [because of digital culture]."
These digital queer neighborhoods may lack the charms of more traditional physical ones. Pop-up parties planned on Facebook don't quite lend the same sense of stability as your local gay bar. And it probably feels different to connect to your lesbian neighbor on an app than it does to share a beer with them at a local queer restaurant (though participating in the former can lead to the latter).
These neighborhoods matter nonetheless. Their existence should be registered.
If there are so many gaybhorhoods, why doesn't it feel that way?
Let's say you agree with Ghaziani's central thesis that gayborhoods aren't dying, they simply exist in an archipelago. If you've grown up in or around a traditional gayborhood, you might still experience the transformation of some of these neighborhoods as loss.
The West Village, home to the infamous Stonewall Inn, is now also home to some of the city's wealthiest residents. The neighborhood remains queer, but queer parties also happen throughout the city's outer boroughs. The Village still serves as a point of culture, it's just no longer the only point.
That can feel like a death.
These centralized gayborhoods once provided "very powerful political functions," Ghaziani says. "Having a residential concentration of queer people in particular parts of the city means we can exert political influence. The election of Harvey Milk is one of the most visible ones. So when you see and hear reports that show [some] residential integration, [it can feel like] dissolution."
With dissolution comes a feeling of invisibility:
"Sexuality is unlike other major demographic characteristics," Ghaziani adds. "It's not visible on the body in the same way. So the visibility functions of queer spaces is still very important [for queer people to feel like they exist]."
Reframing is critical. By de-centering the idea of a singular gayborhood, and traveling to other gayborhoods within a city — maybe even spending some time in a digital ones — people can transform their feelings of loss into strength and multiply their cultural power.
The gayborhood isn't dead. It isn't even dying. It's just ready to thrive in a different way.
Source:https://mashable.com/article/gayborhoods-changing-amin-ghaziani/
Comment: