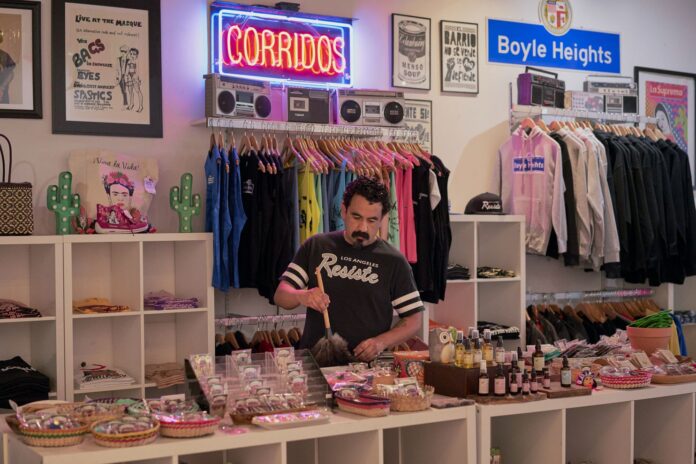 The coronavirus pandemic ground the nation's economy to a halt.
The recession threatens to devastate Black commercial districts and other ethnic enclaves that fuel the vibrancy, economies and identities of American cities. In many cases, these neighborhoods were the products of earlier generations of discrimination, including racial segregation and redlining. Now, entrepreneurs of color are being pushed out.
In Los Angeles, business owners, community leaders and economists predict that months of shutdowns will hasten the gentrification that has encroached on Black, Asian and Latino communities in South L.A. (formerly known as South Central), Chinatown and Boyle Heights since the Great Recession.
With a renewed surge of the novel coronavirus in California, many small businesses are not expected to survive a recession that has hammered the restaurant, retail and personal services industries in which many entrepreneurs of color are concentrated. Black, Latino and Asian workers, overrepresented in the leisure and hospitality sectors, are more likely to be unemployed as a result of the pandemic, which has also disproportionately infected and killed Black and Hispanic Americans.
Minority-owned small businesses tend to be undercapitalized mom-and-pop operations, with lower sales and a small financial cushion, economists say — potentially making it easier for outside investors to snap up their properties at low rates after the crisis. Black and Hispanic families lost a larger percentage of their wealth than White families during the last recession.
"The covid-19 recession is disproportionately hurting these minority businesses, making their communities more vulnerable to gentrification pressures than they already were before," said Paul Ong, a UCLA economist and urban planner whose research focuses on minority and immigrant enclaves. "The expectation is that minorities will lag behind in the recovery, putting them in a weaker position to hang onto their businesses. That will make these areas much more attractive to outside investors in terms of profits because the prices will be lower."
Businesses located in minority communities were less likely to receive government assistance under the $660 billion Paycheck Protection Program (PPP), according to a Washington Post analysis of data recently released by the Small Business Administration. Nationally, about three-quarters of PPP loans of more than $150,000 went to businesses in census tracts where a majority of residents are White.
The loans, which are forgivable if largely used to maintain payrolls at precrisis levels, are designed to keep small businesses afloat during the coronavirus shutdown. But an SBA inspector general's report found that the agency failed to follow congressional guidelines to prioritize minority-owned businesses and other underserved borrowers.
Ong's analysis of the PPP loans showed that businesses in the ethnic neighborhoods of Leimert Park in South L.A., Chinatown and Boyle Heights received disproportionately less federal support than businesses in three neighborhoods with more Whites.
Many are not even applying because of linguistic or other barriers, said Ong, the director of UCLA's Center for Neighborhood Knowledge. Minority-owned businesses are less likely to have relationships with the big banks that more easily allow them to tap into the government assistance or other safe credit options. "They are not in a great position to start with," he said, "and they seem to be falling further behind by not getting support to weather the storm."
Analysis:
Compared to large companies, small businesses in minority communities might suffer more seriously from the pandemic. It will accelerate the gentrification process in more places and reduce diversity in those areas.