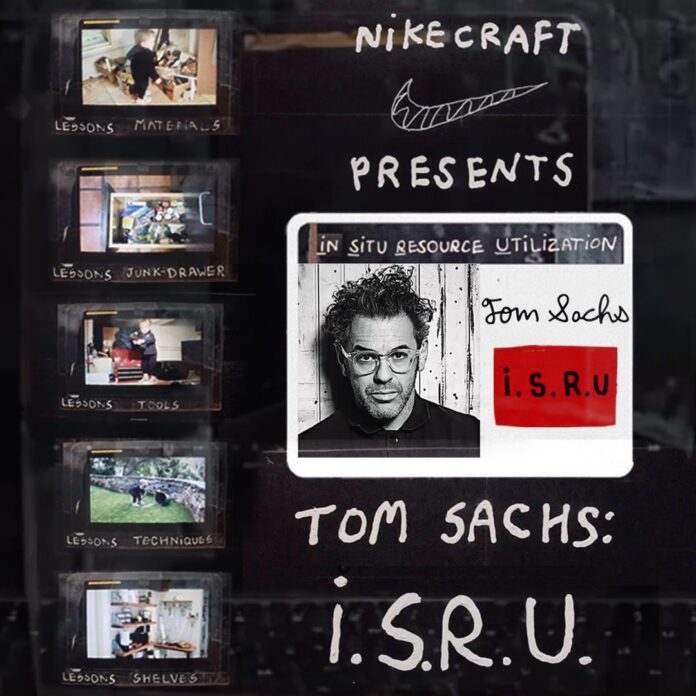 Exercising your imagination during isolation is just as important as exercising your body. That's why Nike has partnered up with long-term collaborator and renowned contemporary artist Tom Sachs, helping to unleash creativity by offering unprecedented access to his personal studio. A digital workshop experience dubbed 'In Situation Resource Utilization (I.S.R.U)', is the initiative designed to inform and inspire during these challenging times. Become the 13th member of the Tom Sachs studio, as the Mars Yard mastermind educates you on the fundamentals of making and creating!
Creating the next chapter of the ever-evolving NikeCraft initiative, I.S.R.U encourages and enables the community to use their limited at-home resources to explore their own creative potential. Hosted via Instagram, IG Live, and IGTV, the weekly workshops invite you to learn from and create with, a variety of experts through unprecedented access, guided workshops, and open dialogue. You'll get to see the studio craft evolve from a product concept engine to a sustainable and inclusive design studio that's shaping the future of accessible products.
'The size of your tool kit doesn't matter. A bag of pencils will get you just as far as a basement workshop. Evaluate the situation, take inventory of what you have, and get started.' -Tom
'NikeCraft I.S.R.U acts as a creative workout for the mind to compliment the body's workout. And we believe keeping both the mind and body sharp will help you reach your full potential.'
Over 5 weeks, I.S.R.U has covered the topics of 'Home Set Up', 'Pencil to Paper', 'Repurposing', and 'Artist as Athlete', with the latest session on 'Repair' recently airing on May 1.
–
I am very inspired by the spirit of In Situation Resource Utilization and its work that encourages to think creatively during the pandemic. It's such an innovative way of connecting creative individuals through these online workshops. Every week you will see people posting 'homework' in response to the week's topic and idea. This has made a community of strangers who didn't know each other but had the same interest in design and creativity.
I can see how the collaboration between him and NIKE are closely related. From the first lesson, Tom tells people "the size of your tool kit doesn't matter." It's the same idea with workout during a pandemic that the gym and the equipment don't really matter; what's important is you and your motivation for exercise.
My favorite is WEEK 3 Intro to Bricolage: "See the potential in your surroundings, and use what you have to solve problems and make things. In the studio, we call it Bricolage. (bri·co·lage – noun): To build or repair with limited available resources." This can be applied to a home workout as well. We kind of have to use our limited space and resources to make things work. For example, I have used water bottles to act as dumbbells.