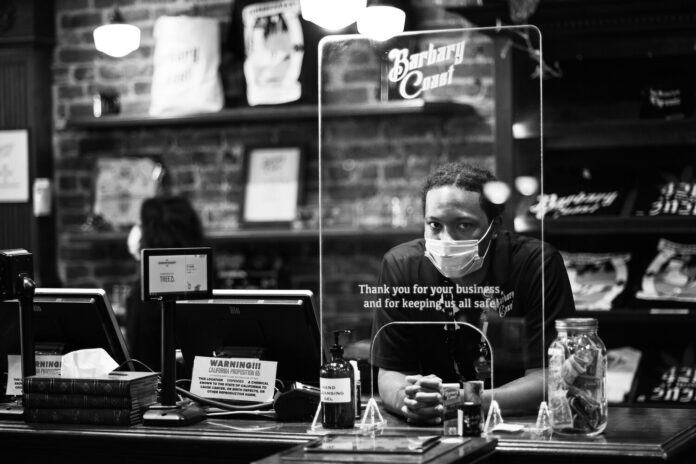 By Aashna Malpani, Deena Sabry and Stephanie Penn
Today we have a dispatch from students at the University of California, Berkeley, Graduate School of Journalism. The New York Times is collaborating with the school on coverage of the coronavirus in California.
With resilience and a sense of duty, these workers in the San Francisco Bay Area are performing vital services even as the pandemic and protests swirl around them.
Here are a few portraits and stories of these workers.
Andreus Oliver, Budtender at Barbary Coast Dispensary
Deemed essential services, dispensaries like Mr. Oliver's have been open through most of the pandemic. Protocols for protecting workers and customers against the virus have become routine.
Mr. Oliver, for one, wears a mask at all times, and hands out fresh masks to any patron who shows up without one. In between conversations with patrons, who include patients who have cancer and epilepsy, Mr. Oliver washes his hands and sanitizes the countertops.
He is an unabashed cannabis advocate who seizes every opportunity to extol its virtues as a pain reliever.
"I love making sure people get the medicine they need."
Nicholas Mastrelli, son of the owner of Molinari Delicatessen
It is noontime and San Franciscans are already lining up for their fix of Italian delicacies from Molinari Delicatessen. A fourth-generation family-owned deli in the city's Little Italy, Molinari has been in business for over 100 years.
The use of face masks, coupled with scorching heat, is making everyone a little tense. It doesn't take long for an argument to break out over what the government-mandated six-foot distance should look like.
"There's a little more fear in the air," said Nicholas Mastrelli, whose father owns the deli.
Paul Binion, bus driver at Alameda-Contra Costa Transit District
In ordinary times, riders on this bus would have no reason to know that their driver, Paul Binion, is also a professional paintballer.
But during the early weeks of the coronavirus pandemic, Mr. Binon's passion for paintballing was hard to miss. To protect himself on the job, he wore the thick winter gloves and mask he wears when paintballing.
Driving the 79 bus from Rockridge to El Cerrito is a high-risk undertaking, even though he sits in a different compartment from the passengers. It's the end of the day that he worries about, when he must close the windows.
"Now, somebody could be coughing, sneezing or whatever the case would be," he said. "He'd get all on the window. I touched the window to close it because that's what I'm supposed to do. Or I get written up."
Malpani, A., Sabry, D., & Penn, S. (2020, July 02). "Portraits of Essential California Workers." The New York Times.
https://www.nytimes.com/2020/07/02/us/essential-workers-in-ca.html
Analysis–
A single photograph can say thousands of words. These photographs of essential workers in California give these stories a face, which allow us to better comprehend their experiences. This article focuses on several different essential workers. Providing quotes from them and also giving you a look into their personal lives through the photography and description.
I find this article to be interesting because it portrays the lives of essential workers in California, instead of New York. A lot of the articles I have found so far have been set in New York. This change in location helps me see the differences between what each state considers as essential. Marijuana dispensaries are considered essential, which is fascinating especially to someone who has grown up in Ohio. I find this article to be relevant to my research, as it allows me to see more essential workers from around the United States.