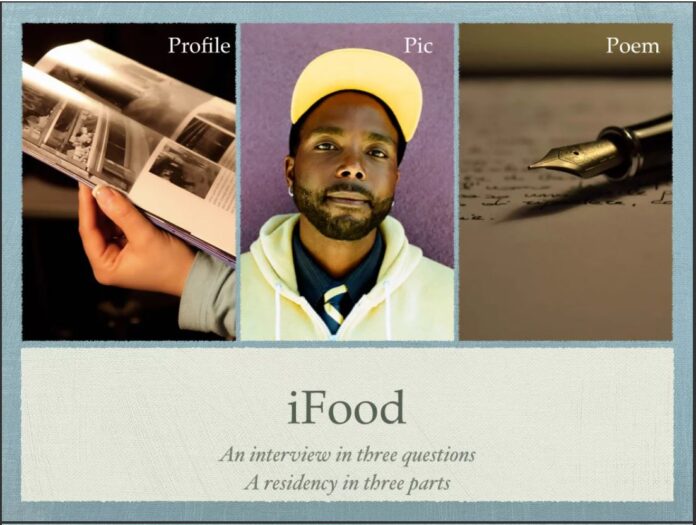 iFood is a project by Hakim Bellamy for the Santa Fe Art Institute Food Justice Residency. For his project he sought to "[ask] residents of New Mexico a suite of three questions with regards to their beginning, intersection, and end…of food."
He writes: "My role will be photographer, interviewer, journalist, poet, and performer. I am seeking community immersion (documenting a 3 question interview by video and photograph) that produces a multimedia performance and publishes a book in that community, creating a collective identity around their food narrative as well as driving discussion and awareness as good art is known to do. This project has the dialogue around food justice as both its process and its product. From your interview I will write a one-page profile of your "story," take a still photograph of you in your working/creative environment, and white a resultant poem from our visit"
Below is an exerpt and poem derived from an interview that can be found here:
What is the end of food?
So to go back to that idea of what food has become, as far as a commodity, there was a poet. I can't remember the name of this poet, but he had a line in a poem where he said, "Roots through their flowers tell us about the inside of the world." And I just think about that so much, I think about that which regards to a vegetable or a plant, like you dig a hole and you look in the whole and that's not real what the inside of the world is, the inside of the world is a mystical thing. I mean, yea it's minerals and all these things, but there's something in there thats … from which all life emerges. And if you think of pants as that interface really food is the absolute most intimate relationship that human beings have with the earth. And you think about how disconnected we are from the earth it is totally reflected in the food. We go and we buy our food off shelves all wrapped in plastic…that's our connection with the earth. And then you look at climate change and it makes total sense. So like for me the end of food is when it is no longer a commodity, food is not food it is again the interface between human beings and the earth. That
that which is inside the earth, becomes us through the food, through the plants.
Santeria (La Regla de Lucumí)*
"Roots through their flowers tell us about the inside of the world." – author unknown

That legume
fills more than your body
it fills your hand
with magic.

Like she does.
Just like she has
at her center
and you know this
from all the times you cup her nature
palm her breast
and call it fruit.

The most intimate relationship
humans have with their mother
is her food.

Even when we off spring
off summer, harvest and winter too
she bears us, anyways.

Looking into the iris of her flowers
is a window to her soul.

She watches us
from flowerbeds and gardens
enchants us to come sit with her
a little while
and chat.

The tells us about her insides
the crystals, the core, the creation…
the oven, the ocean, the origin…

She invites us to put some of her in us.
And it's not a pick up line…

the life throbbing in her womb
is a vat of crayola wax
that she pumps through her roots
to a rainbow palette of bloom
just above her surface,
even as she drops her petals
to show us her nude.
She is inviting us to the table of herself
offering magic pills
by the handful,
if we choose.

And when I do.
It feels like loving myself.
It feels like knowing myself
all over again
Author: Hakim Bellamy
Source: https://tirods.wixsite.com/foodjustice
Analysis:
Hakim Bellamy offers poignant insights into the realities and experiences different people have with food. Through introspective interviews and reflective poems, Bellamy offers raw material to understand the lived experiences of others. This project offers both user perspectives within the creation of it and thoughtful contemplation about what these perspectives may mean. Bellamy illustrates broad experiences with unique notable points that can serve as a great asset in understanding how people relate to food in different facets of life. Looking forward, I aim to leverage this to create a wholistic final product that considers a diverse range of user interactions.
Additionally, this project offers insight into how different questions may stimulate different reactions from users; creating space for myself to be reflective of the nature of my own questions.