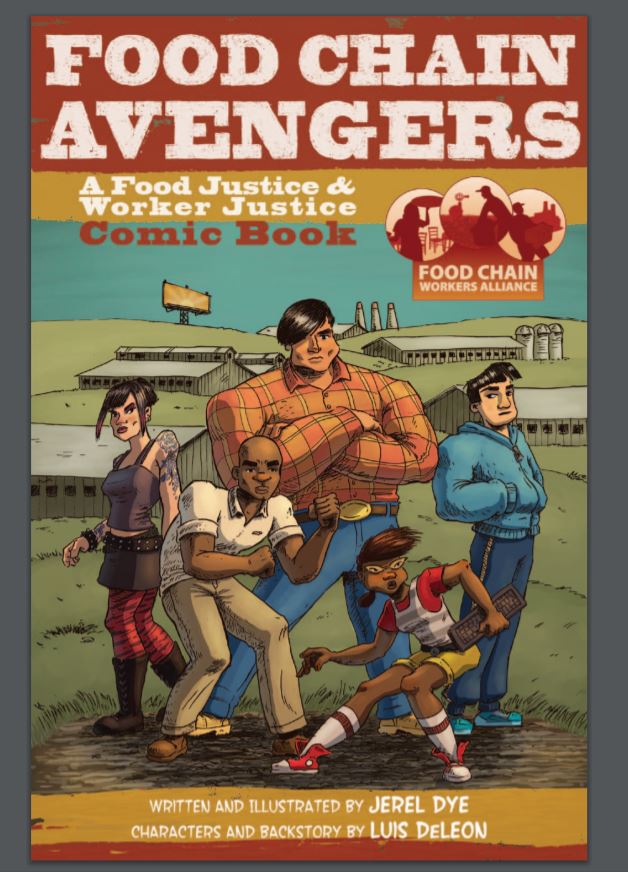 21.5 million people work in the food system in the U.S., joining millions around the world who labor on farms and in meat, poultry and food processing facilities, warehouses, grocery stores and restaurants. The food system is the largest employer in the U.S., yet pays the lowest hourly median wage at $10. Thirteen percent of all food workers, nearly 2.8 million workers, relied on Supplemental Nutrition Assistance Program benefits (food stamps) to feed their household in 2016. This was 2.2 times the rate of all other industries, a much higher rate than in 2010 when food workers had to use food stamps at 1.8 times the rate of all other industries. (Click here to learn more about food workers)
The members of the Alliance decided to create a comic book focused on food workers in order to illustrate the issues facing these workers, as well as their efforts to organize to improve their workplaces, their communities, and the food system. Luis DeLeon, a restaurant worker and member of the Restaurant Opportunities Center of Chicago, volunteered to write the backstory for the comic book. He created five characters, each representing one of the five main sectors of the food system, and he called them the Food Chain Avengers.
The Food Chain Avengers comic book uses examples drawn from real experiences by workers in their respective industries, and the five main characters of the story walk us through each of five sectors of the food chain: production, processing, distribution, retail, and food service. The comic book exposes the exploitative nature of the industry vis-à-vis its workers, communities, and the environment. Ultimately, it tells the story of a struggle to win justice.
Artist: Jerel Dye
Source:
Food Chain Avengers: Comic Book
http://foodchainworkers.org/wp-content/uploads/2014/12/Food-Chain-Avengers-in-full-color-English.pdf
Anlysis:
This comic book serves as an illuminating exploration of the experiences of workers in the food industry. By visualizing how injustice affects the lives of five different characters in various aspects of the food system, this novel offers insights into how the system is currently failing the workers on the frontlines. Specifically, with COVID-19, these workers are deemed essential. Yet, this comic offers a striking juxtaposition between the "essential" nature of their positions and how dispensable they are really treated.
This project will serve as critical insight into the lives of people who are directly involved with our current system. Using this project as a lens to examine our current system I hope to indicate specific points that are currently failing in order to leverage those as a trajectory to redesign for equity and access.