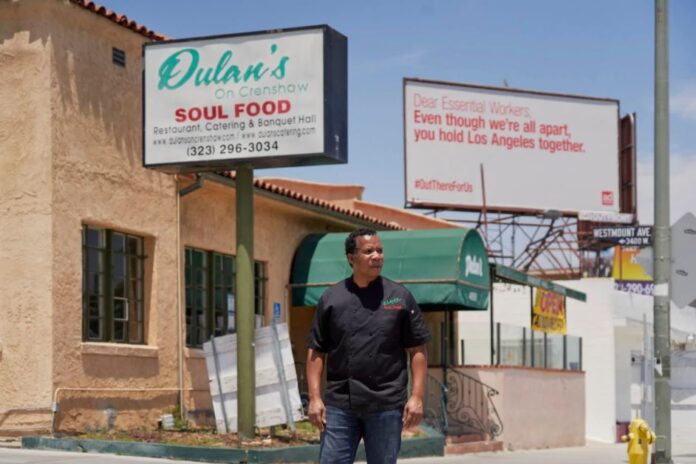 The coronavirus recession could wipe out minority-owned businesses, fueling displacement from historic ethnic neighborhoods.
The Washington Post, by Tracy Jan, July 31, 2020
The recession threatens to devastate Black commercial districts and other ethnic enclaves that fuel the vibrancy, economies and identities of American cities. In many cases, these neighborhoods were the products of earlier generations of discrimination, including racial segregation and redlining. Now, entrepreneurs of color are being pushed out.
With a renewed surge of the novel coronavirus in California, many small businesses are not expected to survive a recession that has hammered the restaurant, retail and personal services industries in which many entrepreneurs of color are concentrated. Black, Latino and Asian workers, overrepresented in the leisure and hospitality sectors, are more likely to be unemployed as a result of the pandemic, which has also disproportionately infected and killed Black and Hispanic Americans.
Minority-owned small businesses tend to be undercapitalized mom-and-pop operations, with lower sales and a small financial cushion, economists say — potentially making it easier for outside investors to snap up their properties at low rates after the crisis. Black and Hispanic families lost a larger percentage of their wealth than White families during the last recession.
Businesses located in minority communities were less likely to receive government assistance under the $660 billion Paycheck Protection Program (PPP), according to a Washington Post analysis of data recently released by the Small Business Administration. Nationally, about three-quarters of PPP loans of more than $150,000 went to businesses in census tracts where a majority of residents are White.
To help some survive, Ng's nonprofit contracted with restaurants to prepare and deliver meals to 1,300 senior housing residents who no longer had safe access to grocery stores and communal kitchens.
"One of our biggest fears is this is going to speed up the gentrification process," he said. "It's not just a threat. It's real. If we look at history and what happened in 2008, there were sharks waiting to take their vacant spots."
…
South LA Cafe:
As the coronavirus outbreak worsened in China in January and February, just months after opening, the couple discussed whether they should close their business. Instead they stayed open, selling $35 grocery boxes with essential provisions: beans, rice, pasta, vegetable broth, almond milk, fruits and vegetables, toilet paper and medical masks. Nonprofits, corporations and individuals sponsored hundreds of boxes each week for them to hand out to financially struggling customers.
They launched an online ordering app for curbside pickup, expanding to grocery and meal delivery. They've asked the community for recurring $10 monthly donations; more than 500 people have signed up.
Dulan's on Crenshaw
The Black Lives Matter movement has made people recognize that Black-owned businesses are especially vulnerable because of the pandemic, said Greg Dulan, owner of the famed Dulan's on Crenshaw Soul Food Kitchen. Anonymous donors have paid him to feed coronavirus first responders for six weeks. Corporations he never heard from in the past are reaching out to discuss future catering and promotional opportunities. But he wonders how long that surge in support will last.
"If we're going to have a strong African American business community which helps to uplift African American neighborhoods, then some of these things that are happening have to continue long-term," Dulan said.
Analysis:
I am glad to have found so many articles discussing the implications of gentrification, COVID-19, and businesses owned by marginalized people. This article points to the surge of people putting their money toward those establishments (either by purchasing things or donating) that happened as more people became active participants in the Black Lives Matter movement this summer. It was interesting to see South LA Cafe's approach in which they sold grocery boxes and set up a recurring donation system. I think this concept ties in with other ideas about repurposing unoccupied spaces and allowing for marginalized communities to reclaim parts of the Short North.