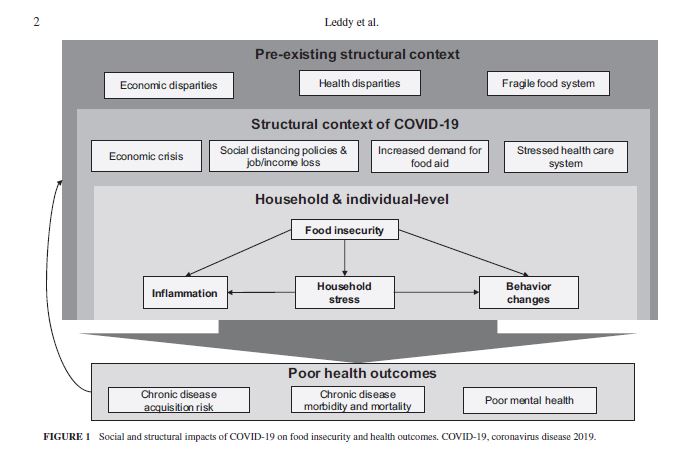 Analysis from "A conceptual model for understanding the rapid COVID-19-related increase in food insecurity and its impact on health and healthcare"
Summary
This Article, published on August 7, 2020, discusses the effects of foo insecurity from its COVID-19 impact. This is clearly a loaded question and very complex, this is why the authors attempted to make a framework (the diagram above). The article advocates a frame of thinking that is multi-layered and bidirectional. Food Insecurity can have influence on the structures of society, households, and the individual. All of which are likely to increase in their negative effects due to the pandemic's power.
Another important aspect of this article is the mention of poor health effects, both short-term and long-term. Not only is food insecurity an issue that requires immediate attention, but this can also result in increased obesity, morbidity, mortality, and chronic mental health problems. The latter category is predicted to have an effect on food-insecure populations well after social-distancing orders have been removed.
Reflection
This article is helpful for my thesis because it offers me a holistic perspective to view food-insecurity as I design. I hope to repeatedly review this model while designing as a way to ensure I am thinking about all parts of this complicated issue.