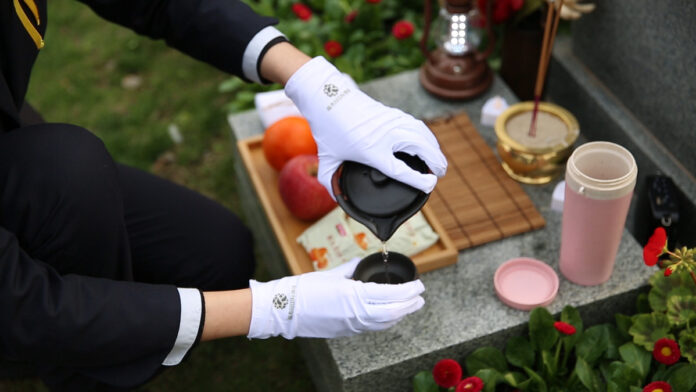 Qingming Festival is a traditional festival that lets people sweep the graves and show their respect to their passed-away loved ones. However, to curb the spread of the COVID-19 epidemic, cemeteries have introduced an online system where people can perform their customary duties remotely during this year's Qingming Festival.
Many Shanghai residents may not be able to visit the graves of their loved ones during the upcoming Qingming Festival because of the novel coronavirus pandemic. But people will still get to pay their respects to the dead, albeit in a different manner.
The municipal civil affairs bureau will introduce special arrangements, such as virtual ceremonies via the website or WeChat platform of each cemetery.
Fushouyuan, a leading funeral service provider with a presence in more than 30 Chinese cities, has already received a flurry of inquiries about how people can pay their respects during this period.
In response, Fushouyuan launched the Fushou Cloud platform, which allows people to carry out the usual tomb-sweeping rituals virtually. Through a web interface, customers can choose from a variety of services, such as placing flowers on tombs and burning incense, that are performed by cemetery staff. Customers can also pay to have a video or photo of the grave taken.
"Wherever you are, as long as you turn on the computer or your smartphone, you can 'enter' the cemetery and pay your respects. People can see the gravestones at all Fushouyuan premises in China through the web platform," The spokeswoman Yi told China Daily in an exclusive interview.
People who prefer to visit the graves in person will have to schedule an appointment with the cemetery via its WeChat platform. Upon entering the cemetery, visitors will be required to present their appointment record, wear a mask as well as show their personal health QR codes. A cap on visitor numbers has also been put in place.
Shanghai resident Chen Xiaofan is among those who plan to visit the cemetery in person.
"My father passed away more than a year ago. According to local customs, we cannot skip any of the first three years of tomb-sweeping," she said.
"But I am sure he will understand if I cannot see him this year.
Analysis:
Virtual graves sweeping is not an innovation of this year in adapting to the pandemic. This service showed up a few years ago, but it's the pandemic that made it so widespread. Many traditions could be redefined after the COVID-19, just like the ritual of sweeping graves in person. This article is also inspiring because sometimes, the traditional practices are not unchangeable. People can accept the new means of graves sweeping if the process shows similar respect and love to their passed-away relatives. What really matters is the core value of the tradition. Also, I'm thinking about the virtual festival could not only be the performance on live streams or the gathering in the zoom meeting, but it could become a service somehow.