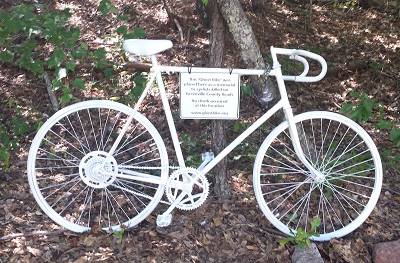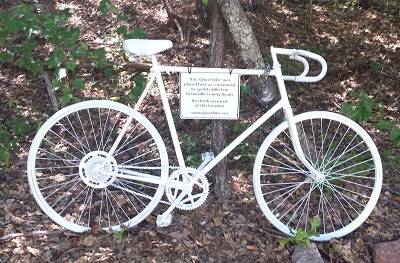 by Ghost Bikes, 2018
Ghost Bikes are small and somber memorials for bicyclists who are killed or hit on the street. A bicycle is painted all white and locked to a street sign near the crash site, accompanied by a small plaque. They serve as reminders of the tragedy that took place on an otherwise anonymous street corner, and as quiet statements in support of cyclists' right to safe travel.
The first ghost bikes were created in St. Louis, Missouri in 2003. Currently there are over 630 ghost bikes that have since appeared in over 210 locations throughout the world. For those who create and install the memorials, the death of a fellow bicyclist hits home. We all travel the same unsafe streets and face the same risks; it could just as easily be any one of us. Each time we say we hope to never have to do it again — but we remain committed to making these memorials as long as they are needed.
About this site
*** As of 2012 Ghostbikes.org has been unable to add information about Ghost Bikes outside of New York City. We hope to be able to offer the worldwide community a way to submit content updates directly to the site soon. We appreciate the continued support and work of our community in New York City and around the world and ask for your help in furthering our work and building our global network. ***
Ghostbikes.org is intended to be a site for the worldwide cycling community. For information on ghost bike work being done in your area, click one of the locations listed on the right, or check out the full list. This site was initially set up by the NYC Street Memorial Project. This site reflects NYC's project very well, but much of our information
on other places is incomplete. We hope to create a space where those lost on dangerous streets can be remembered by their loved ones, members of their local communities, and others from around the world. We also hope to inspire more people to start installing ghost bikes in their communities and to initiate changes that will make us all safer on the
streets.
These memorials are visible reminders of cyclists killed, but I have yet to see one in the Columbus area. Despite this, many of my friends have been hit and injured by cars so increasing the visibility of both the rider and consequences could help increase safety. The campaign is widely supported in New York despite an increase in deaths during the 2019 calendar year.